Saturday
After a very blessed stay in Iwaki, we drove straight through my old hometown of Funehiki (I really wanted to stop, but our schedule wouldn't allow it) up to the city of Sendai, which had arguably seen the most devastating effects of the earthquake and tsunami. We stayed at the Morigo Christian Campground, which was both breathtakingly beautiful and surprisingly comfortable (the only amenity that we lacked was hot showers).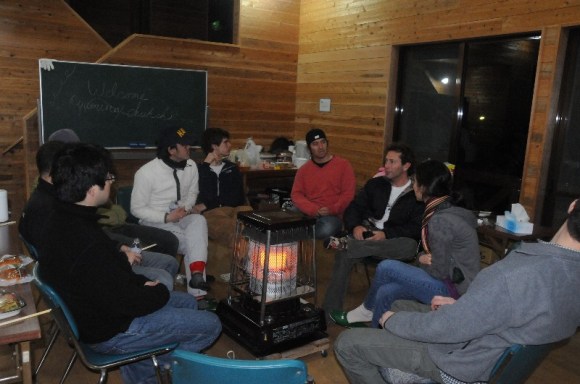 While there, I met an old friend from my time in Fukehiki named Aaron. After we both got over our shock at seeing one another, he explained to me that many of his fellow (foreign) English teachers had left the country, but that he had made up his mind to stay and help. His presence there was a great encouragement, as well as a wonderful witness.
Sunday
After an impromptu worship service (I had been looking forward to worshiping at a local church, but no such plans had been made), our team decided to split up and go two different directions. Because I was one of the few drivers in the team, I felt that I didn't really have a choice where I went, so I ended up going with half of our team to Shiogama City, where we delivered supplies and manpower to a neighborhood that had been flooded by the tsunami.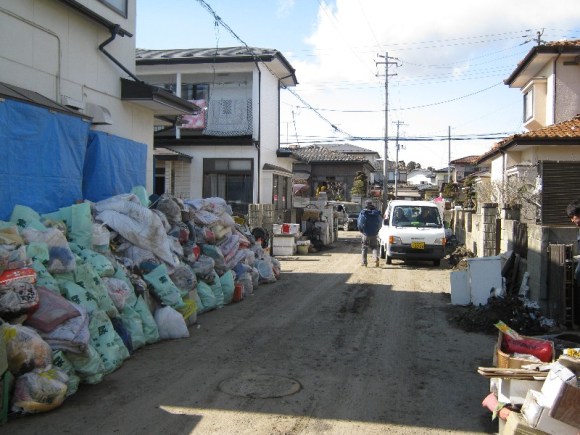 My experience there was difficult on a number of levels. We helped an elderly couple to move large items out of their damaged house–refrigerator, piano, etc. It felt painful to enter their once-beautiful Japanese home with dirty work boots on, and equally painful to help them take their largest and most expensive possessions out to the street to simply be trashed. We helped another elderly couple to empty their single-story house of their large items as well, and when we asked them if they wanted us to remove their tatami mats, the woman said that there was no need because they were just going to have to tear the whole thing down anyway. I kept asking myself, What if this were my house? What if I was this person? What would I be feeling? I couldn't come up with an answer.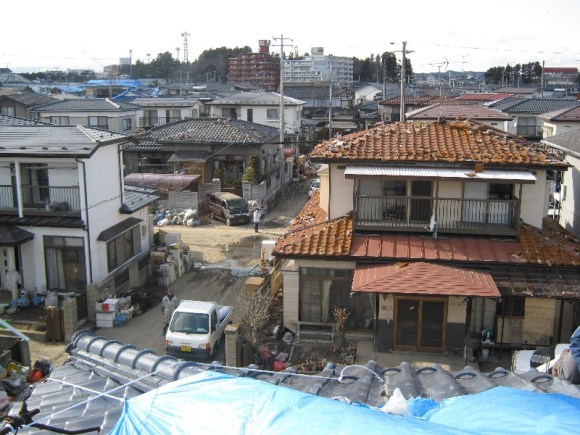 That evening, we drove to a different part of the city where the damage from the tsunami was more intense. There was a row of large, expensive houses that had been knocked wide open: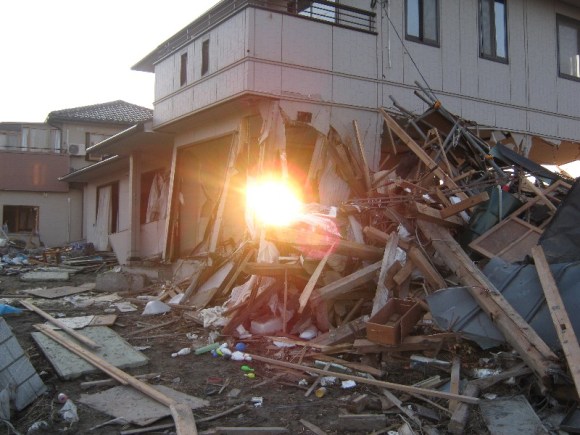 Behind these ruined estates was a massive expanse of what had been rice fields that was now strewn with wreckage: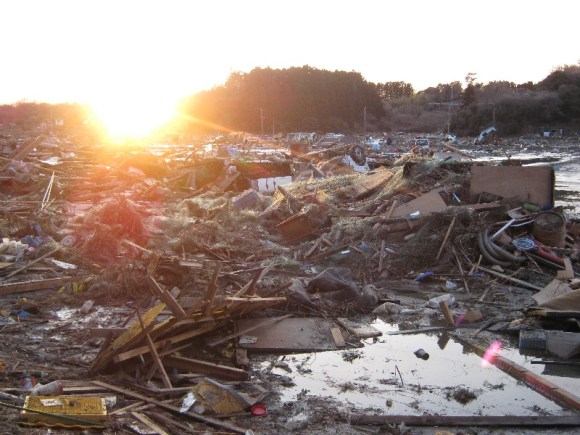 The damage here defied description: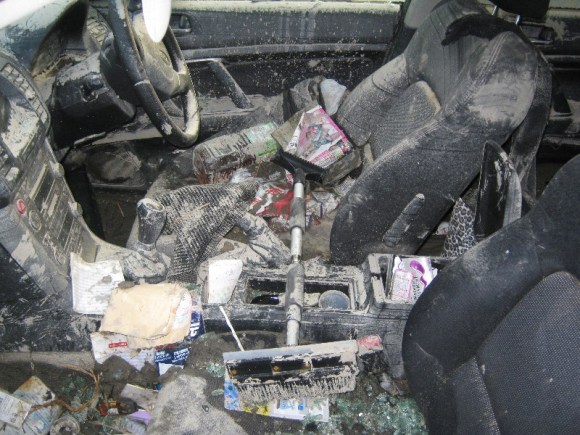 There were cars wrapped in fishing nets, torn pieces of peoples' photo albums littering the ground, and even childrens' toys coated in grime laying on trash heaps: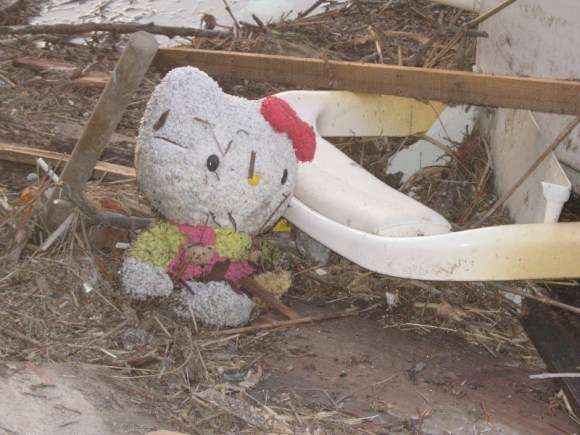 But most disturbing of all was the remains of a scarecrow that we found with an all-too human face laying serenely amidst the rubble: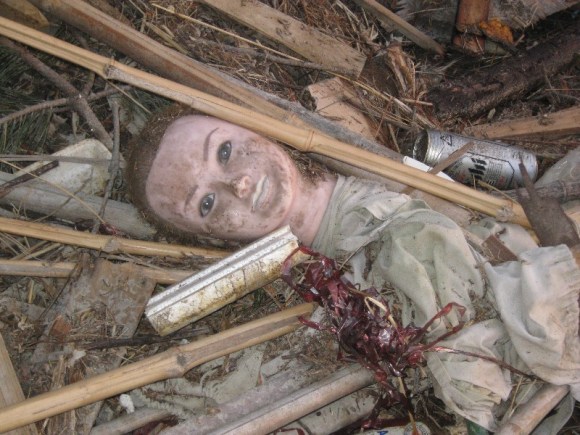 This haunting picture captures for me the real cost of these disasters, that of tens of thousands of human souls. How many more bodies were found here in this wreckage, mangled beyond recognition? It also makes me think of all those who chose to end their suffering by committing suicide–over 30,000 every year. I have to remind myself at times like this that this physical devastation is only a shadow of the spiritual devastation that has plagued this country for many long years, and only Christ, whose "appearance was so marred, beyond human semblance, and his form beyond that of the children of mankind," can restore the image of God in man and offer true healing to me and my people.
Monday
On Monday my team went further north to a coastal area called Ishinomaki, which was hit just as hard (perhaps even harder) than Shiogama. At sunset, we were taken to the top of a hill that overlooks the city, and total destruction met our eyes: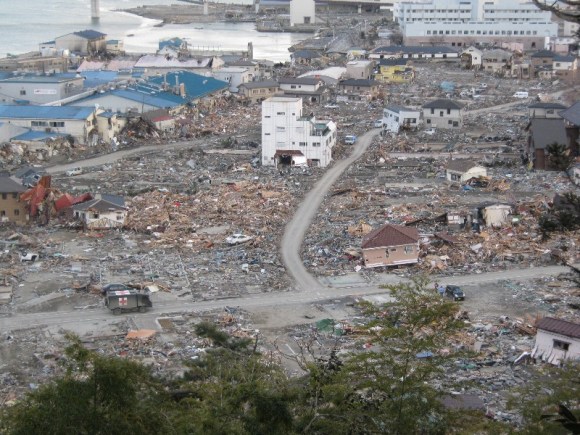 I have many pictures, but none of them do justice to the level of annihilation that we saw there. Our guide (an elder at a local church) took me down to an area in which the current of the tsunami had smashed many, many houses together into a solid mass of wreckage: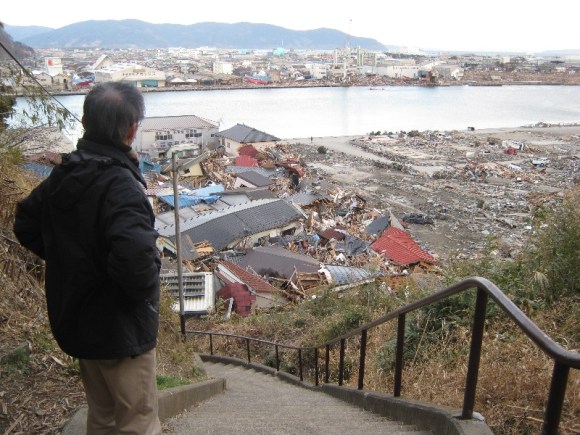 Here is a closer look: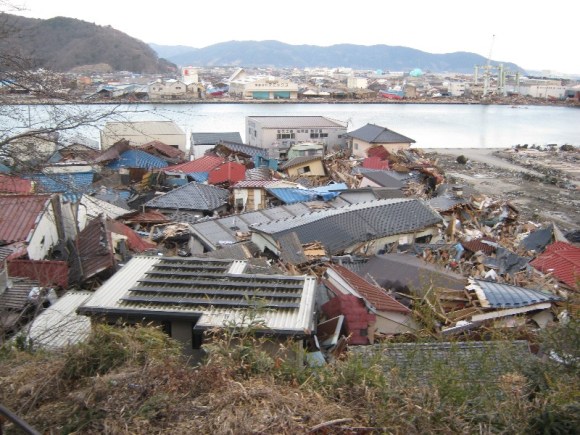 Seeing houses piled up like Legos showed that the power of this tsunami was beyond comprehension. In every place, it seemed, the tsunami wrought unique forms of devastation, but all of them were equally powerful and equally destructive and deadly. (My guide pointed out that there are still likely many bodies inside these homes that have yet to be excavated.)
Tuesday
On Tuesday, my team "geared up" and trudged out to help a local family clean out their house.This time, the whole house and surrounding neighborhood (including the sidewalk) was covered, inside and out, by thick, slimy, foul-smelling mud: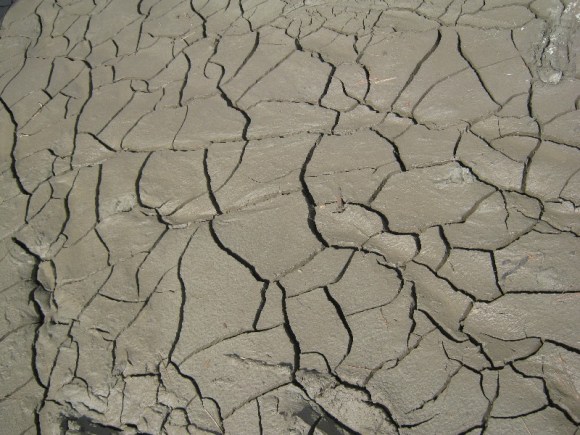 We started by clearing out the sidewalk. The mud–it was more like the 'muck' from the bottom of a lake–was thick, sticky, and extremely dense and heavy, and took a lot of energy to shovel: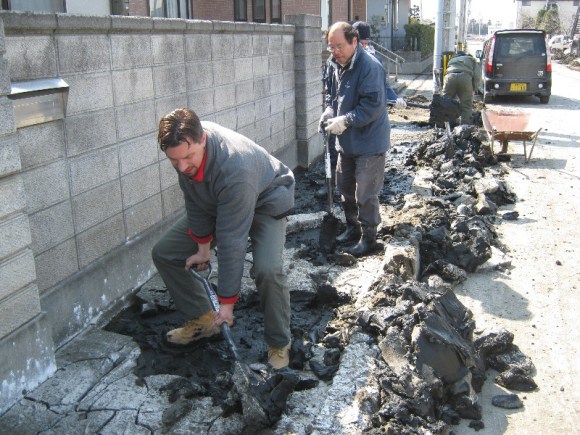 Then, we helped the residents of the house (a Christian woman and her non-Christian mother and cousin) to remove the majority of the gunk from their floors, and then carry practically EVERYTHING they owned out to the curb to be trashed. By the time we were done the sidewalk was completely full of stuff: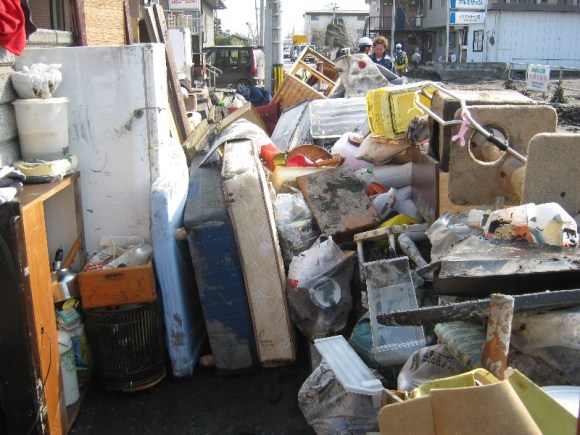 This was another one of those tragic and surreal experiences. As a Christian, I know that this material world is only temporary, but rarely is that fact more poignantly illustrated than when you know someone who has lost EVERYTHING. There was no bargaining with this kind of devastation, no saving anything that had been soaked in this nasty, smelly water. If this doesn't break us of our materialism and our focus on owning stuff that moths and rust consume, then nothing will.
Wednesday and Thursday
On Wednesday we drove back to Chiba (a 7-hour trip), and then on Thursday we boarded our respective planes for our return to the States. Both trips were full of reflection and deep thought, and even now I am not done processing it all. But I am thankful for the opportunity to have gone on this trip, and thankful to have met so many wonderful and godly men and women engaged in the cause of giving aid to the needy in the name of Christ.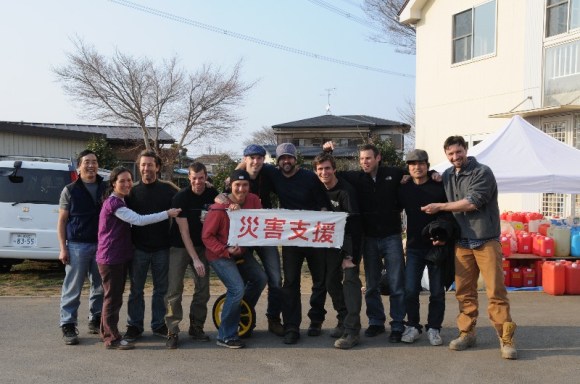 Please join me in continuing to pray for Japan. It will be a long, difficult road to recovery for Japan, especially for the Tohuku (North-Eastern) region. There will be many who will lose heart and begin to despair, and many others who will cling to a stubborn sense of self-dependence and self-sufficiency for survival. Please pray God would exalt the weary, sustain the faint, and breathe new life into this dying country. He alone can do it! Please, God, save Japan for the sake of your eternal glory and praise!!
-Mike