Hi all! Last week, I tried out a recipe from the CPC church cookbook called "Saltine Candy", and it was a big hit with everyone.  It uses ingredients that are readily available both in America and in Japan, so it's a versatile and very easy snack/dessert.  I promised everyone I'd post the recipe online, so here goes…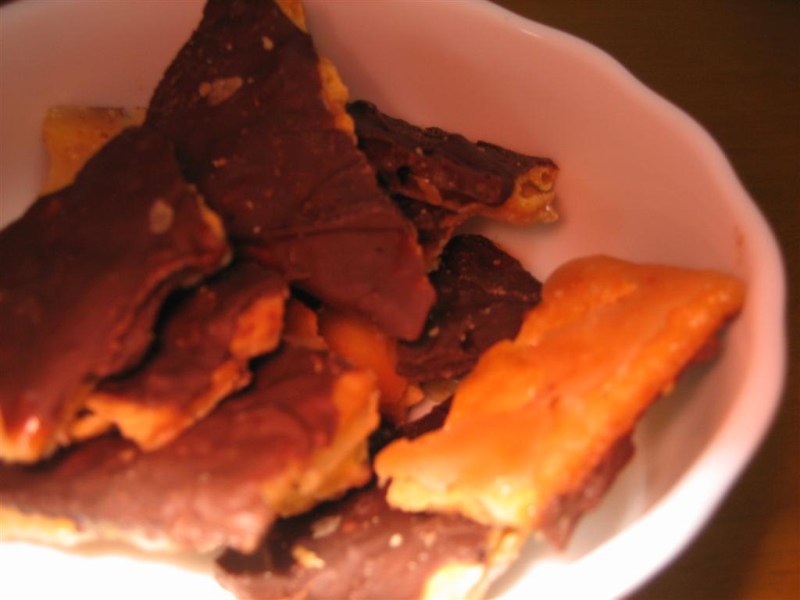 Melt 2 or 3 "Ghana" or "Hershey's" dark chocolate candy bars in microwave or double boiler, being careful that the chocolate doesn't scorch.  I used 2 candy bars, but if you want a really strong chocolatey flavor, you may want to use 3.
Line a 9×12 cake pan with aluminum foil and grease the foil to allow for easy removal of the candy.  Arrange about 24 saltine crackers in rows to entirely cover the bottom surface of the pan.
Preheat oven to 350 F or 160 C.
Heat and stir 1/2 cup of brown sugar and 1 stick of butter in a saucepan over medium heat until the sugar melts.
Spread the liquid sugar/butter mixture over the entire surface of saltine crackers.  Bake for 12 minutes.
Remove from oven and spread chocolate over entire surface of saltine crackers.  Allow to cool at room temperature, then place in refrigerator to chill for at least 1 hour.  Break candy into pieces and serve.
As you can tell, this is very fattening, but it tastes delicious.  It has a toffee/chocolate flavor that Mike and I both love.
Enjoy! -Jen