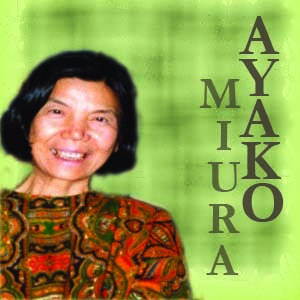 Recently, I rediscovered a favorite author of mine. I stumbled across her name in a magazine editorial, and it evoked memories of a powerful book I had read almost 15 years ago. The book was called "A Heart of Winter." It was the story of the daughter of a Japanese prost.tute. It told about the journey her life took; from her early memories of getting locked outside her house when men came over, to memories of a Christian woman who one day found her outside and took her under her wing and sang songs to her about someone called Jesus. It told about her journey to believing in Jesus, and how her faith was ultimately tested when she was introduced to her best friend's father years later and immediately recognized him as one of her mother's frequent customers.
Reminded of Miura's work, and interested to see what else she had written, I came across other books by her through Amazon. I just recently finished reading an autobiographical work "The Wind is Howling" and am still reeling from it's impact. I learned that in addition to her work as a novelist, Miura also wrote of her experiences through composing haiku. Until reading this recent book, I never appreciated the intense and concise beauty in haiku. The following haiku will give just a small flavor of Miura's character and her personal journey.
From the author's early days of nihilistic disillusionment (This was during the 10 year period during which she was hospitalized with tuberculosis shortly following World War II):
I awoke clutching a tepid hot water bottle
Can one call this moment living?
I shake the thermometer down;
I am alive but accomplishing nothing.
From her developing friendship with the man who
would eventually lead her to Christ, and become
her fiance:
When you found me smoking and turned sadly away,
I was attracted to you.

Listening to the rumour that I was a flirt
I smiled without admitting it.
Years later, following the death of her fiance:
When I watch a cloud drifting across the sky in May
It is hard to believe you have died.

You taught me about original sin,
And I remember your intense eyes.

The mountain dove sang on the hill in the evening
And we knelt and prayed to Jesus together.

You held me in your arms as if I were your wife.
Oh, come back, come back from Heaven.
Even though the originals of these haiku were written in Japanese, and these are only translations, they capture and express so much human emotion. I think for me, reading Miura's work helps to connect me with the Japanese people.
Since my language ability is still so limited, day-to-day conversations with Japanese co-workers and students consist of only as much pathos and emotional intensity as one can fit into a simple English or simple Japanese phrase. My days are full of exchanges like "I love cherry trees," and "What American food do you like?" "It is nice to see you again," and "I'm sorry you are sick."
It's easy to forget that the Japanese people I interact with every day have deep and profound emotions that I cannot begin to fathom with my limited language ability. My conversations are necessarily shallow, however, the people I am talking with are far from shallow. Emotionally rich writing that transcends my language barrier is a timely reminder to my forgetful soul.
–Jen