Guess what holiday yesterday was?!  It was actually "Health and Fitness Day" here in Japan.  It was also "Thanksgiving" in Canada (as Cristy, our Canadian teammate here in Japan so aptly taught us).  Mike and I celebrated both holidays with gusto yesterday.  We celebrated the first holiday by climbing the local mountain here (Mount Katazone) for the first time.  It took us a little over an hour to get to the summit, and a little under an hour to get back down.  I'm almost positive Mike will be posting some photos from our climb soon — it was really cool!
As for Thanksgiving, you can never celebrate it too many times!  The whole team got together for a sumptious feast, and then played a hilarious group game.  Remind Mike and I to teach you how to play "Picture Telephone" next time we see you!!!
I'm posting the recipe for my contribution to the Thanksgiving feast: Creamed Spinach.  Everyone liked it — and I have to give credit where it's due.  Thank you Mom for this wonderful recipe — this has been a family favorite — requested at just about every birthday and holiday dinner for as long as I can remember.  In the recipe, I've made notes in red ink, where there are changes I had to make to adapt the recipe for Japan.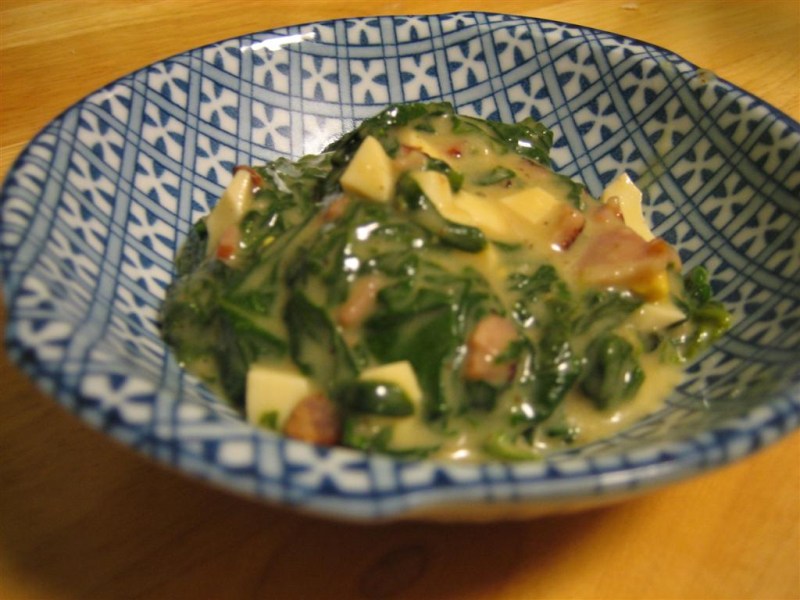 CREAMED SPINACH
Begin by making a basic White Sauce:
Melt 2 tablespoons butter in a saucepan over medium heat.
Stir in 1/4 teaspoon salt, 1/8 teaspoon celery salt, 1/16 dry mustard, 1/16 paprika

(or, with limited spices here, I used 1/4 teaspoon salt, 1/8 teaspoon garlic salt, and 1/8 teaspoon chili powder)

Slowly add, stirring constantly, 2 tablespoons flour .  Stir this mixture, allowing it to bubble for about a minute.
Slowly add, and integrate a little at a time, 1 cup milk .
Bring to a boil, stirring constantly.  Once boiling, the sauce should be thick, creamy, and ready to add to the spinach mixture.
Mix and heat together:
2 – 10oz boxes frozen spinach , thawed & drained 

(or 2 packages of fresh spinach: wash, remove stems, cut into bite-size pieces if desired, and briefly boil or steam to cook, then drain well)

1/3-1/2 lb bacon , browned and crumbled 

(or ham, minced and friend in a pan, until browned)

White sauce (see above)
1 hard-boiled egg , chopped
Serve warm or hot.  This recipe is great as leftovers too!  Enjoy!
-Jen