What is God doing in Japan?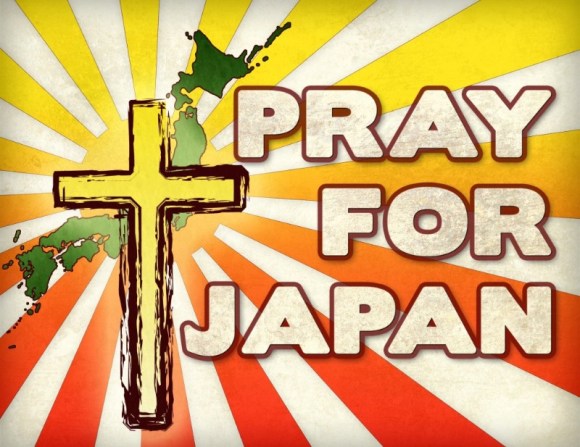 God is our refuge and strength,
a very present help in trouble.
Therefore we will not fear though the earth gives way,
though the mountains be moved into the heart of the sea,
though its waters roar and foam,
though the mountains tremble at its swelling.
…
Come, behold the works of the Lord,
how he has brought desolations on the earth.
…
"Be still, and know that I am God.
I will be exalted among the nations,
I will be exalted in the earth!"
The Lord of hosts is with us;
the God of Jacob is our fortress.
These words from Psalm 46 have been on the hearts of many Christians and missionaries in the days following the March 11th Great East Japan Earthquake (東日本大震災). On that day, the mountains did tremble, and the waters roared and foamed for miles inland, sweeping everyone and everything away with them. Come, behold the works of the Lord, how He has brought desolations on the earth!
I have beheld it. I was there for 10 days. I have seen with my own eyes the desolations that He has wrought, and they are terrible, dreadful. The only response I could give at that time was silence. Be still, and know that I am God.
My wife Jen and I first heard the call from God to pursue missionary work in Japan in 2002. Since then we have followed, in much weakness and sadly in much pride, but all these years He has been graciously and faithfully preparing us for that calling, both in terms of higher education as well as in personal growth, holiness, and humility (things that I have sorely lacked). And a key part of our training process involved living for a time in Japan. From 2006 to 2008, we lived in rural Fukushima prefecture as English teachers, learning Japanese, ministering where we could, and falling in love more and more with Japan. It became our home, and has remained so even to this day.
So we were crushed when we learned that the March 11 th disaster had not only struck the nation we love and the people we love, but it literally struck in our own backyard. The quaint little town we lived in is only 20 miles away from the stricken Daiichi Nuclear Power plant (just outside of the exclusion zone), and many of the people there have left because of radiation scares and shortages of daily goods. In addition, many of the cities we had visited in the past were now in ruins: Sendai, Iwaki, Namie, Makuhari. While no one we knew perished (praise the Lord), many people we know have suffered greatly, and many of the towns we loved have been damaged, deserted, or destroyed.
But even this is not the true Disaster. For many years now, the nation of Japan has been deeply troubled, plagued by a host of spiritual ills. Japan is "a superpower without a moral compass," a land blessed with much common grace but almost no saving grace. 99.9% of all people there do not trust Christ as Savior, and most have never heard the gospel even once. Depression, anxiety, shame, guilt, and relentless perfectionism haunt millions and contribute to a suicide epidemic (over 32,000 people every year take their own lives). Pornography is rampant, teenage prostitution is commonplace, and over a million young men refuse to leave their rooms and remain isolated from the world around them.
Why has God allowed all this to happen? Why has He visited such devastation on these people that we love so much, these precious people who are made in God's own image? Is God punishing Japan for the many sins that they have committed, and continue to commit? Or is He striking them for our lack of obedience in ministry, our hardness of heart, our lukewarm prayers? Has God forsaken Japan, and cast them off forever? In the words of the lament of the Sons of Korah, Will you be angry with us forever? Will you prolong your anger to all generations? (Psalm 85:5)
Lord, will you be angry with Japan forever? Will you prolong your anger to all generations?
People of God, hear now God's own answer to His own question:
I will not contend forever, nor will I always be angry; for the spirit would grow faint before me, and the breath of life that I made (Isaiah 57:16).
" Come, let us return to the Lord;
for he has torn us, that he may heal us;
he has struck us down, and he will bind us up.
After two days he will revive us;
on the third day he will raise us up,
that we may live before him.
Let us know; let us press on to know the Lord;
his going out is sure as the dawn;
he will come to us as the showers,
as the spring rains that water the earth" (Hosea 6:1-3).
Our God is a God of compassion! I long for the people of Japan to say these words to one another; I long for the Japanese to seek God with all their heart and mind and soul and strength, to press on (and urge each other on) to know the Lord.
And God shares that same longing. Just as God pitied the city of Ninevah, He says, should not I also pity Japan, that great country, in which there are more than 120 million persons who do not know their right hand from their left . ..? (Jonah 4:11)
There is indeed a lack of moral understanding in Japan because there is a famine on the land— not a famine of bread, nor a thirst for water, but of hearing the words of the Lord (Amos 8:11).
But it is not over yet! Jesus has not forsaken Japan, nor will He cast them off forever. Japanese Christians are few and churches there are small and weak, but a bruised reed he will not break, and a faintly burning wick he will not quench; he will faithfully bring forth justice. He will not grow faint or be discouraged till he has established justice in the earth; and the coastlands wait for his law (Isaiah 42:3-4).
He will send His law and His Word to the people of Japan until at last, in the place where it was said to them, "You are not my people," it shall be said to them, "Children of the living God." (Hosea 1:10)
" Be still, and know that I am God.
I will be exalted among the nations,
I will be exalted in the earth!"
God never wastes suffering. On this side of Heaven he never brings desolations devoid of grace. God loves the Japanese too much to let them continue to walk in their own ways, in the same ways that I myself walked in before I was saved. And just as He did to Israel countless times in the past, he is using the sufferings of the Japanese people to draw them to Himself.
When I was there this past March, I saw firsthand some of the glorious ways He is working:
I met pastors whose tireless faith and indomitable confidence in the goodness of God spurred them on to works of radical compassion.
I prayed with large groups of Japanese Christians whose zeal burned to heaven and stoked a fire deep in my own bones.
I worshiped with a Christian singer/songwriter who cried tears of love as he sang his songs to people living in a makeshift shelter.
I prayed with a young college-age man who had grow up in the church but wept as he finally started to believe in his own heart that God might really love him.
I saw volunteers willing to drive truckloads of supplies through the night to needy towns despite the fear of radiation.
I joined a Japanese Christian in a heartfelt prayer of thanks with an elderly couple who had never prayed before.
I heard countless other testimonies of how God touched the hearts of unbelievers to donate goods, stand in line for hours to buy gas, and even attend worship for the first time because the felt that God was trying to tell them something.
God has not wasted the sufferings of the Japanese people. He is at work, wooing, inviting, drawing people to Himself. And He has not watched the devastation from a distance, either. No, Jesus entered into our sin-stained world and felt, more than we can ever know, the full devastating burden of human sin and suffering:
He was despised and rejected by men; a man of sorrows, and acquainted with grief.
Surely he has borne the griefs of the Japanese people and carried their sorrows (Isaiah 53:4)
[But,] Out of the anguish of his soul he shall see and be satisfied;
by his knowledge shall the righteous one, my servant,
make many—even the Japanese—to be accounted righteous,
and he shall bear their iniquities (Isaiah 53:11).
Thus, in Him, and only in Him, shall come true these very great and precious promises from the Psalms:
Let the peoples praise you, O God; let all the peoples praise you! (Psalm 67:3)
The princes of the peoples gather as the people of the God of Abraham. (Psalm 47:9)
" Be still, and know that I am God.
I will be exalted among the nations,
I will be exalted in the earth!"
The Lord of hosts is with us;
the God of Jacob is our fortress.