If there's one thing that Wakakusa English teachers will tell you about this program, it's that you never know what amazing opportunities will come your way, and this past week was a great example. This Tuesday, 30 delegates from the city of Mansfield , Ohio arrived in Tamura to sign the new sister-city agreement between Mansfield, USA and Tamura City, Japan. (The old agreement was just between Mansfield and Funehiki.) The delegation included the Mayor of Mansfield, the Chairman of the City Council, and various other community leaders, and none of them knew any Japanese beyond "Thank you", "Please", and "Good Morning" (which, by the way, is pronunced "Ohio"). So we English teachers were asked to lend our translational skills to help them get through their time here in Japan.
I (Mike) was asked to take some time off school and  serve as a translator  for two of their five days here in Tamura. At first, I was a bit anxious; after all, I had never been asked to be an "official" translator before, and certainly never for a group of important guests like these. In fact, the very first time I was asked to translate (which was totally out of the blue), I got really nervous and had to ask the speaker to repeat what he said two or three times. But once I got into the swing of it, I enjoyed it immensely–it was a lot of fun! And just the fact that I was able to be helpful in a translational capacity is exciting in and of itself; my Japanese has definitely come a long way in my nine months here.
So not only did I get to try my hand at translation, which I really liked, and not only did I get to answer tons of questions about Japan (which I always love answering!!!), but I also got to go to some really cool places and do some realy cool stuff . Here's some of the cool stuff that I did…
I got to play the taiko drum after the welcoming ceremonies. This was a dream come true for me; I've been wanting to pound on one of these suckers for at least a decade now. Boy, let me tell you, I gave that thing all I had! According to eye witnesses, the sound was filling the room–always a good thing. And the best part was the fact that afterwards, the resident taiko master gave me a double thumbs-up and said , "Good! Good!" Now that's a compliment!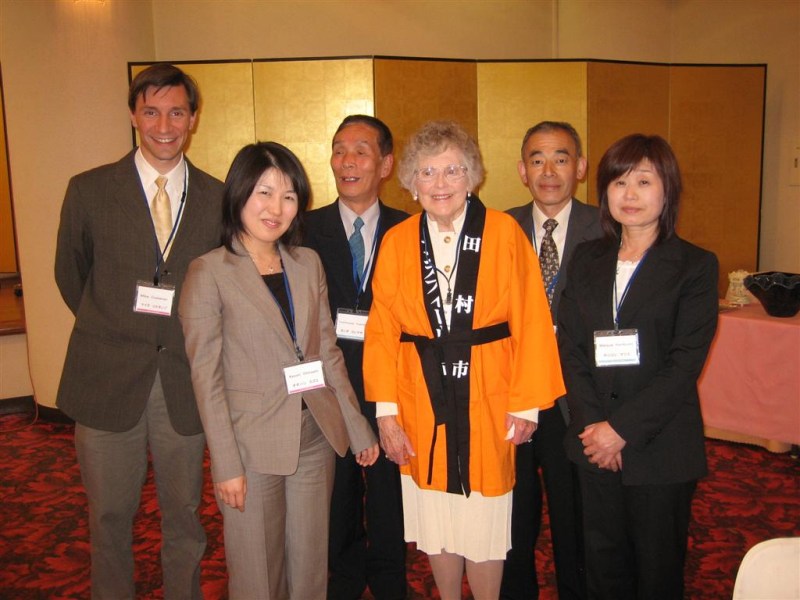 I got to have my picture taken with the mother of a U.S. Senator and various Japanese digintaries. This 87-year old lady was one of the sweetest people I've ever met, and in incredible shape for her age. I hope that I'll be able to take crazy international trips like this when I'm 87…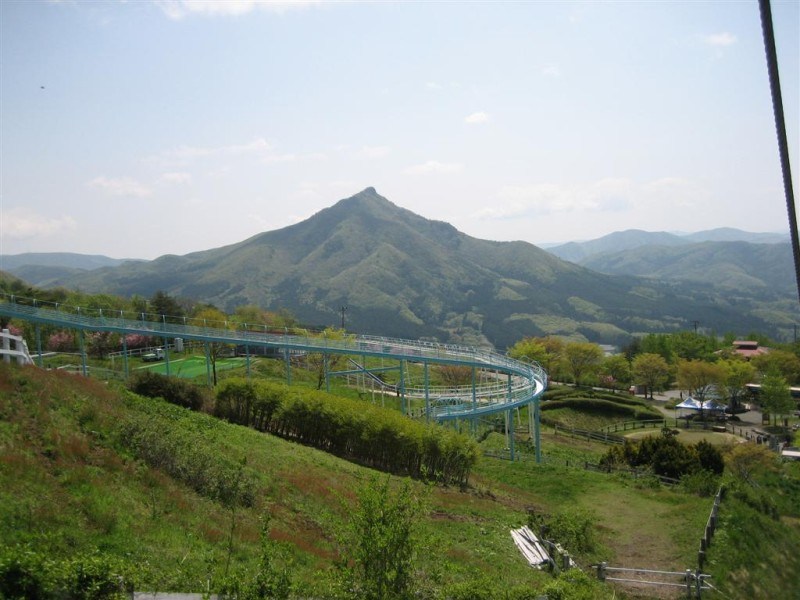 I got to go to a special place that I've been wanting to go to ever since my first month here in Japan– Mushi-Mushi Land!!! The name means "Bug-Bug Land", and it's famous for being the home of an impressive collection of horned beetles. It also turned out to be a mini-amusement park, and since we went during the week, we had the whole place to ourselves! The weather was beautiful, as was the view (it's on the top of a mountain). There was a ski-lift that takes you up to the top of a big hill where you can get great pictures for your blog (see above). There was also a long blue slide that's not only slow, dirty, and hard on the backside, but dangerous for adults (a couple of guys ripped their pants, and one dropped his camera and lost his memory card). Fun memories. Happy times.
I also got to ride the Mushi-Mushi Land Luge (TM), a totally sweet ride that will send you soaring into uncontrollable fits of speed-induced ecstasy. I think I went on this thing five or six times–yeah, it was a hard day's work, but somebody had to do it. Actually, me and two of the honored guests from Mansfield discovered that if you lean into the turns, you can take the whole thing at maximum speed. When we weren't giving each other tips on how to increase your speed, we were encouraging [read: pressuring] others to try it out. Good times. 🙂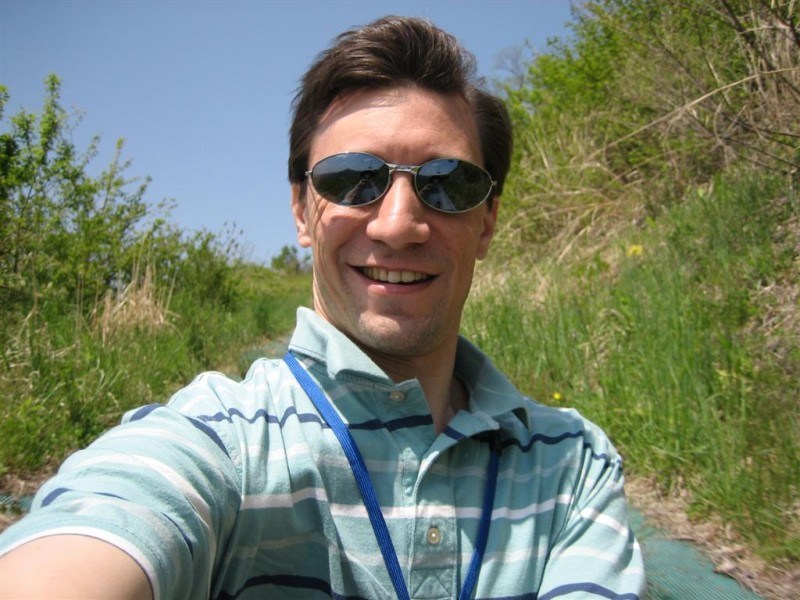 I also got to take this sweet video of me riding the luge. The internet version is a little grainy, but that's YouTube's fault and not mine (has to do with the way they compress video). 2 words for you: Full Throttle, Baby !!! (Ok, it's three words…whatever…)
VIDEO LINK: http://www.youtube.com/watch?v=pEaA6GYvYoQ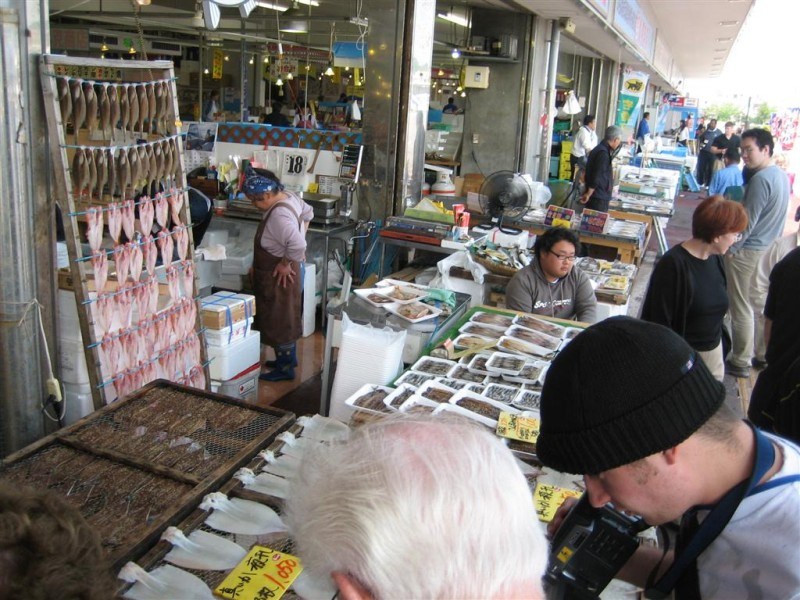 I got to see the Iwaki fish market , which was not only crawling with people, but also with crabs, octopi, sea urchins, squid, and every other kind of slimy, delicious undersea creature imaginable. If I wasn't on a catered bus tour, I would have spent a fair amount of time (and money) choosing some yummy critters to eat for dinner. Mmmm…slimy critters…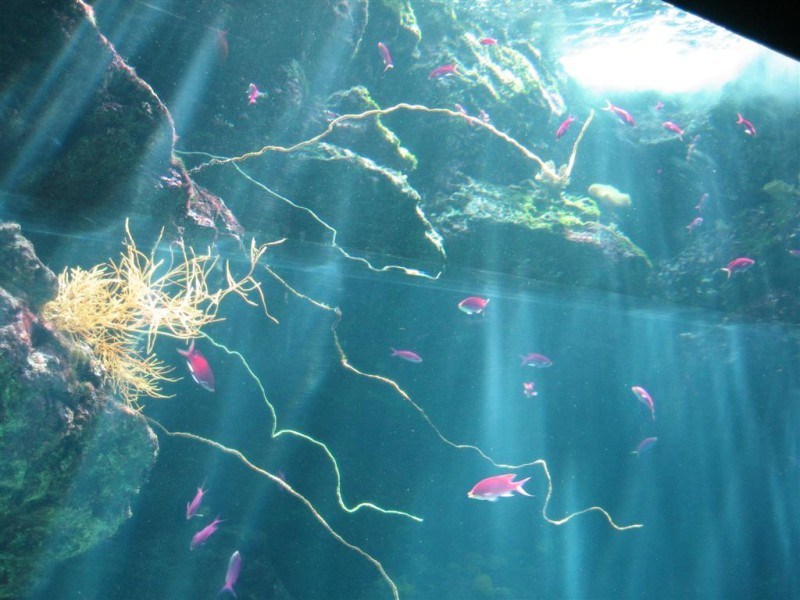 I got to see the Aquamarine Aquarium in Iwaki, which is also someplace that I've been wanting to go. And in case you're wondering, it's not just a stereotype that Japanese people often go to an aquarium and come out saying that everything looks "delicious." Actually, I found myself saying it a few times as well. I guess that's what you call cultural immersion! Get it? Ha ha ha…puns are funny. Anyway, here's a relaxing aquarium video I that took there:
VIDEO LINK:   http://www.youtube.com/watch?v=8BJOcoLdZ4s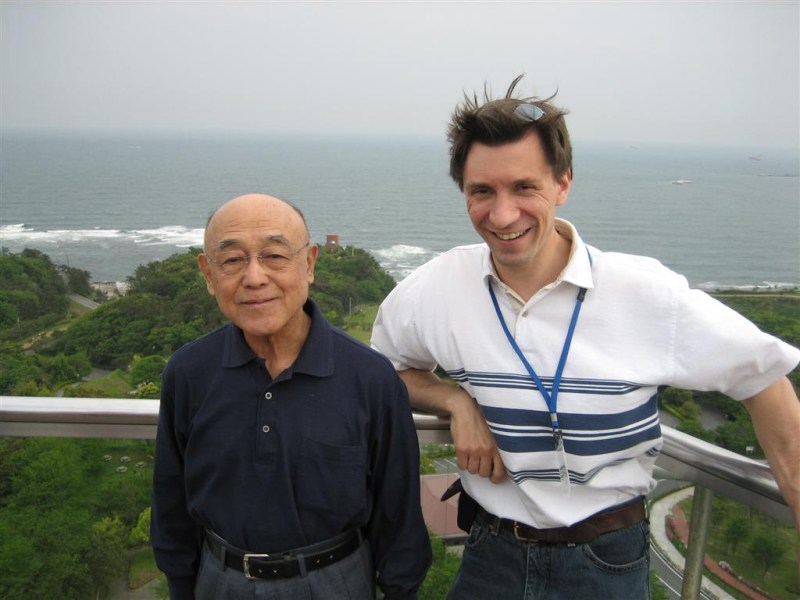 And lastly (and maybe most amazingly of all), I got to spend some time with Encho-sensei. He's one busy guy, so just being able to chat with him about stuff like his favorite season or the Japanese sense of affinity to fish was very refreshing. Here we are on top of Marine Tower, overloking the Pacific Ocean. If you look closely, you can see America in the distance–in fact, that little blotch just above Encho-sensei's head is the Space Needle in Seattle. Isn't nature amazing???
Well, I know this trip took a lot of energy to pull togther, so some folks on this team are glad it's over . And I'm sure that if I had to be involved in planning this crazy thing, I'd probably feel differently. But to be honest, I wish it could have been twice as long, and that we could make this an annual event; I love paid vacations! 🙂
Here's hoping I get to do more of this kind of thing in the future!!!
-Mike