Doubting has a bad rep in the modern American Evangelical church. This must be due at least in part to Biblical imperatives that condemn certain kinds of doubting as sin: "Ask in faith, with no doubting, for the one who doubts is like a wave of the sea that is driven and tossed by the wind. For that person…is a double-minded man, unstable in all his ways" (James 1:6-8). Sounds bad, huh? Nobody wants to be that guy. Or take Thomas, the apostle made so famous by his skepticism that he's the only apostle to have a nickname: Doubting Thomas. Nobody wants to be that guy either.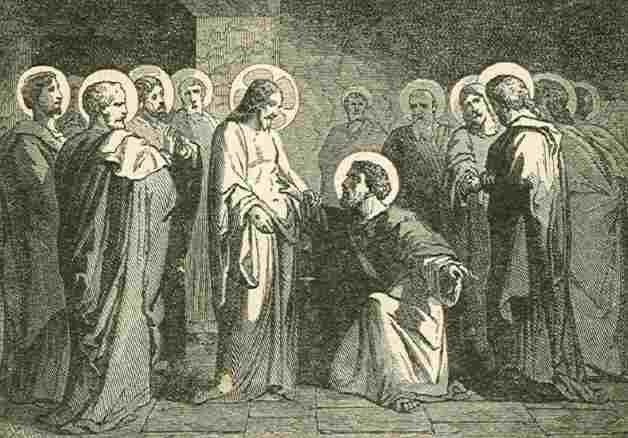 But while Thomas is often looked down upon by church members and Christians the world over, we have more in common with him than we would like to believe. We sometimes doubt the resurrection, whether in totality or in its practical, daily application. We often look at situations that God has placed us in and conclude that nothing good can come of it, or that God is not looking out for us like He said he would. We have our doubts just like Thomas, but oftentimes Thomas is proved more righteous than we are. Why? Because we're just like him, but we often pretend that we're not. We heap deception on top of our doubt to convince ourselves (and others) that we're not that guy.
When tragedies occur or we encounter a problem without any apparent solution, it's natural to doubt. What is God up to? Why did this have to happen? Does He really still love me, or has my sin driven a wedge between us? These are troubling questions for Christians, and nobody wants to admit that we have them. We don't want to be known as Doubting Thomases, so we pretend that we believe when really we don't. We tell ourselves that if we put on the appearance of faith and deny the doubts that sometimes crop up in our hearts, that act of denial will somehow overcome them and help us to believe. After all, we're supposed to avoid sin, and doubting is sin—right? And who wants to be seen as a sinful, faithless doubter in a room full of (apparently) strong believers on Sunday morning? So we pretend. We make-believe instead of actually believing.
If Thomas had doubted in this way, he would not have said, " Unless I see in his hands the mark of the nails, and place my finger into the mark of the nails, and place my hand into his side, I will never believe" (John 20:25). Instead, he would have said, "Jesus is risen? That's great! Praise God!" But it would have been a lie. It would have been false worship because his words would not have proceeded from a heart of faith. Or perhaps he would have said nothing, hoping that his silence would conceal his true thoughts from his companions (and maybe even from God).
Again, if Thomas had doubted in this way, Jesus would have had to rebuke him twice, both for his doubting as well as for his lying. He would have been "busted" in the same way that Abraham's wife Sarah was busted—God heard her laughing and confronted her about it, and she denied the whole thing, trying to fool God with a thin veneer of instant piety. But God sees through stuff like that. God isn't interested in shallow shows and elaborate mock-ups; he wants true faith. And true faith usually comes the hard way: by working through our doubts, one at a time.
While Thomas seemed to have his mind made up for the most part, he still left room in his doubting heart for God to justify Himself. Contrast that with the Israelites who accused Moses of premeditated murder: "You have brought us out into this wilderness to kill this whole assembly with hunger " (Exodus 16:3). Unlike Thomas, the Israelites did not doubt their conclusions in the least; they were convinced that their interpretations of their experiences were correct and that God and Moses had led them out of Egypt to kill them in the wilderness. This is the wrong kind of doubting, when you believe firmly that you are right and everyone else (even God) is wrong. But when there's room for God to convince your heart and show himself right—when there's a part of you that wants to believe—then you're on the right track.
Thomas may have been a man of little faith, but what little faith he did have was genuine, and it eventually culminated in exuberant worship of the risen Christ. May the same be said of us! Instead of running from the fact that we're doubters, may we learn to face our doubts head-on, with courage and candor. Let us learn to worship Christ when he graciously overcomes our doubts with undeniable proof. And let us imitate the unnamed Jewish father who one-upped us all by having enough faith to both confess and ask of Jesus, "I believe; help my unbelief!" (Mark 9:24).
Written by Mike Costanzo