One of the funniest things about being here in Japan is all the Wasei-eigo that we see from day to day. In fact, for anyone whose first language is English, Wasei-eigo is a seemingly endless source of amusement and entertainment (just ask any Japanese language student). That's right–I'm talking about " Made-In-Japan English ", or as it's more affectionately referred to, Engrish . You see, English is actually really popular here in Japan, so it's not uncommon to find English written all over the place–on shop signs, T-shirts, movie posters, pencil cases, food products, and just about anywhere else you'd expect to see writing of some kind. But the beauty is, it's hardly ever written by an actual native English speaker. So as you can imagine, there are some very creative (and occasionally incomprehensible) English renderings out there. Allow us to share with you some of our favorites…
First, let me show you my (Mike's)  Japanese T-shirt collection . There are some seriously funny T-shirts out there, none of which make any sense whatsoever–it's a beautiful thing, I tell ya! So I've made it a rule to check the clearance rack periodically and pick up any funny shirts in my size that I like and that are under $5. So far I've found three winners:
"Square Center ." "My destiny is on you, more than the whole wide world." "Dad Mountain." "That Feeling Of The Existence." [Picture of flaming 1950's Cadillac.] "College of the Wisconson, East Tenessee State." Is this awesome or what? I still laugh every time I see this shirt. 10 bucks to anyone who can actually interpret this crazy jumble for me.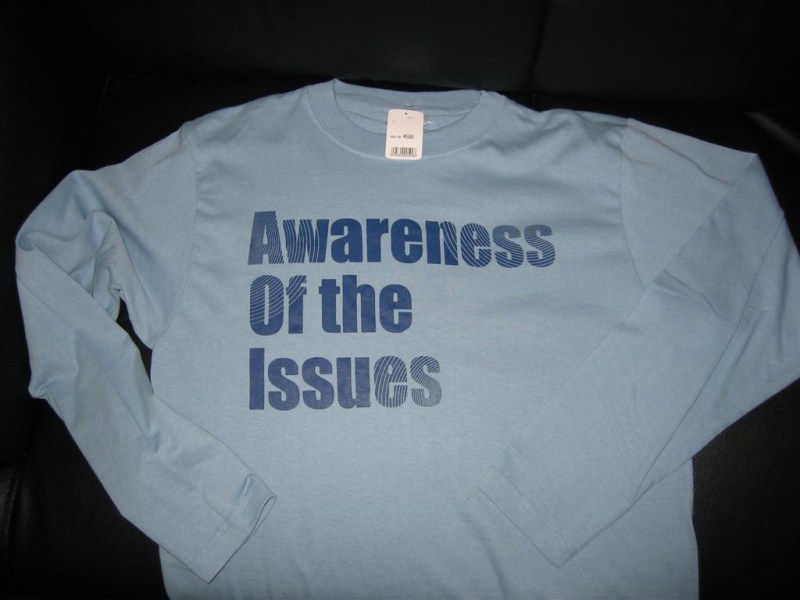 "Awareness of the Issues." At last, a shirt that touts one of my main goals in life in big, bold letters. Have you got it?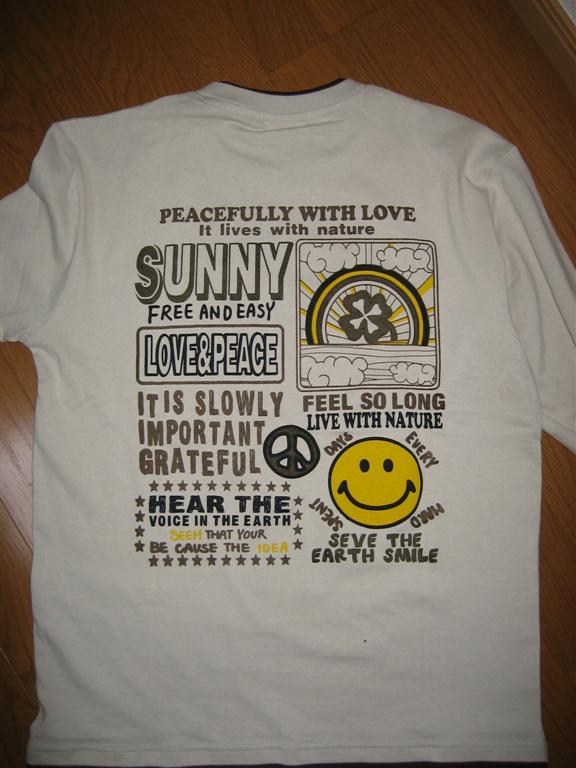 I don't know where to begin with this one. "Sunny Free and Easy." "It is Slowly Important Grateful." [Picture of a four-leaf clover rising like the sun.] "Hear the Voice in the Earth. Seem That Your Be Cause The Idea." East Asian hippies, unite!
Classic. Simply classic.
Now for a few more choice examples of Engrish that we've found around town: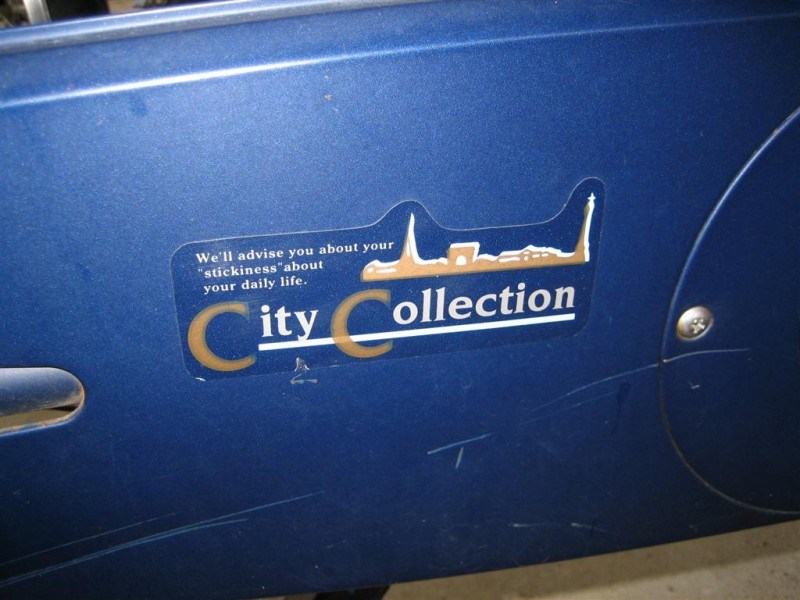 We actually found this one on the side of Jen's bike. It says, "City Collection. We'll advise you about your "stickiness" about your daily life." We're still scratching our heads about this one. Even if our daily lives were "sticky", do you think we'd be going to a bicycle company to get it all sorted out? We think not. Hmmmmm…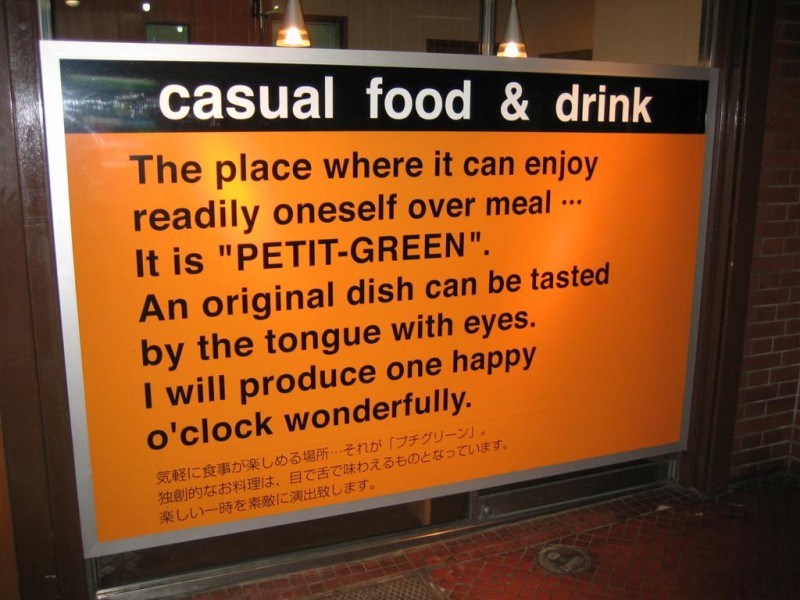 This is the sign in front of a restaurant called PETIT-GREEN. It looked pretty good, but unfortunately we didn't have one happy o'clock wonderfully to spend there. Maybe we'll try it sometime, but if the menu is written like this, we won't have any idea what we'd be ordering!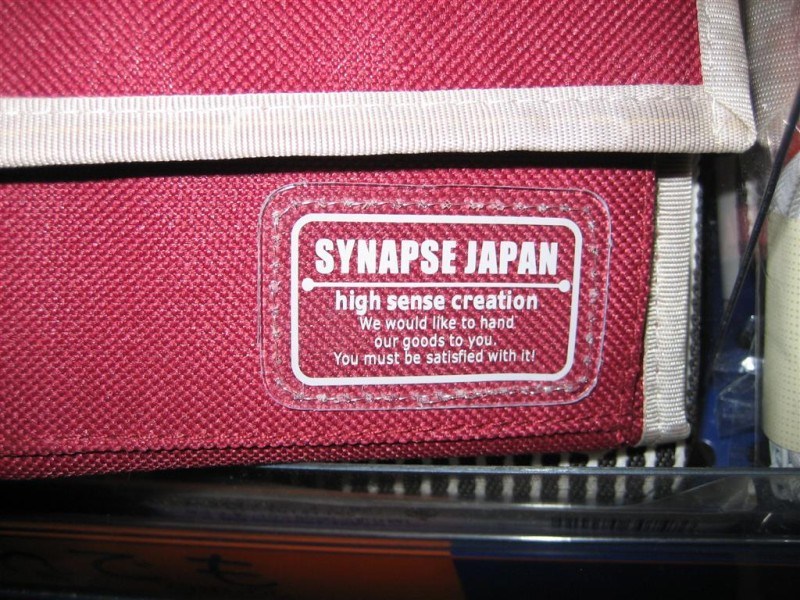 We found this one on a dollar-store wallet. Tell me that this isn't the catchiest brand slogan you've ever heard: " We would like to hand our goods to you. You must be satisfied with it! " Now that's good advertising.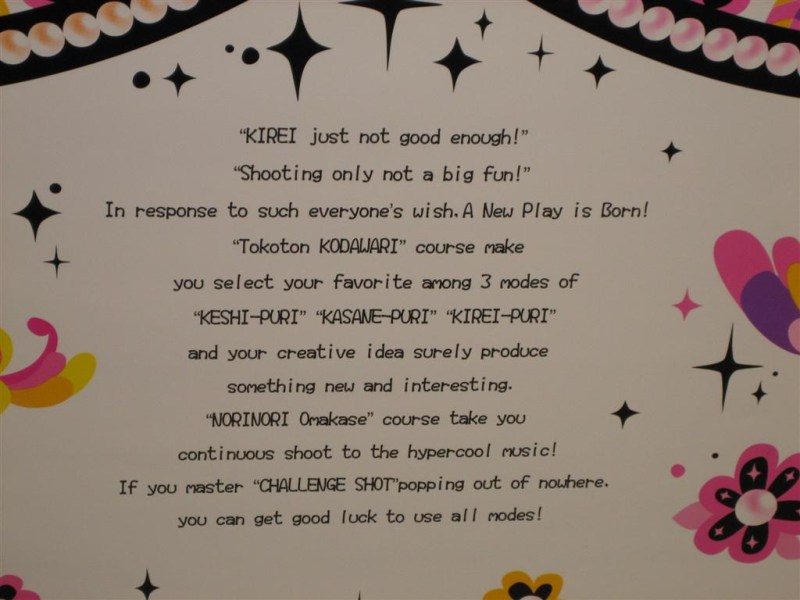 And now, the ultimate in barely comprehensible Engrish. We found this very creative and original text on the side of a Picture Club machine–one of those booths where you go in with your girlfriends and take a lot of pictures and then digitally alter them and print them out as stickers. It says,
"KIREI just not good enough!" "Shooting only not a big fun!" In response to such everyone's wish.A New Play is Born! "Tokoton KODAWARI" course make you select your favorite among 3 modes of "KESHI-PURI" "KASANE-PURI" "KIREI-PURI" and your creative idea surely produce something new and interesting. "NORINORI Onakase" course take you continuous shoot to the hypercool music! If you master "CHALLENGE SHOT" popping out of nowhere, you can get good luck to use all modes!
I don't know about you, but I would love to be taken continuous shoot to the hypercool music –sounds like a blast. And if I ever master "Challenge Shot" popping out of nowhere, I'll make sure to let everyone know.
Now you know why we English teachers are such a necessity here in Japan. There is still much work to be done…