Yes, it's time once again to revisit the wacky and wonderful world of Engrish. Just cuz' we haven't blogged about it in a while, don't mean that it's gotten any less goofy! 🙂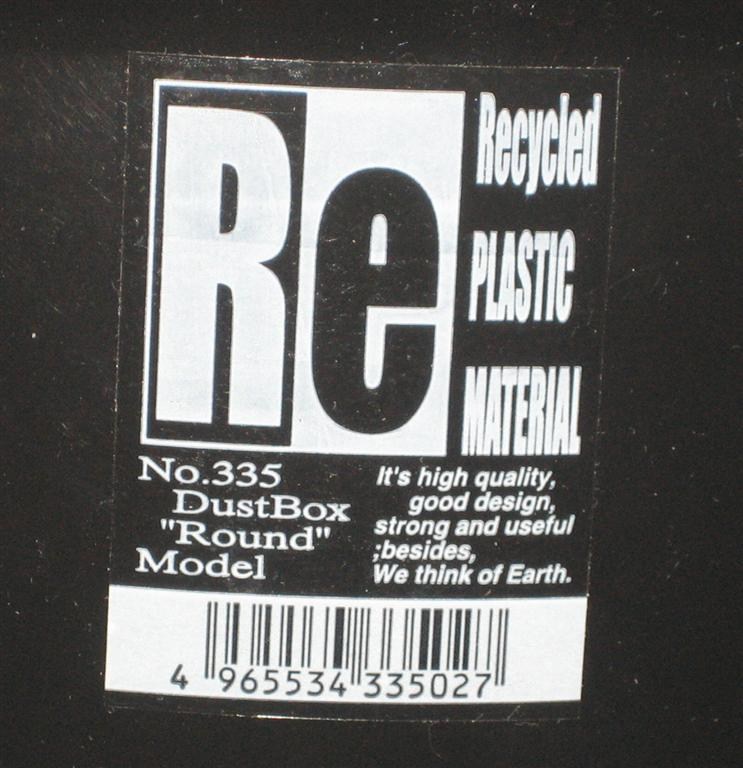 We actually found this sticker on our trash can one day. We always had thought it was just a trash can, but as it turns out, it's a DustBox –"Round" Model . Hmmm….okay, whatever. At any rate, you gotta love this company's motto: " It's high quality, good design, strong and useful; besides, We think of Earth ." How can you resist a company that thinks of Earth? We apparently couldn't…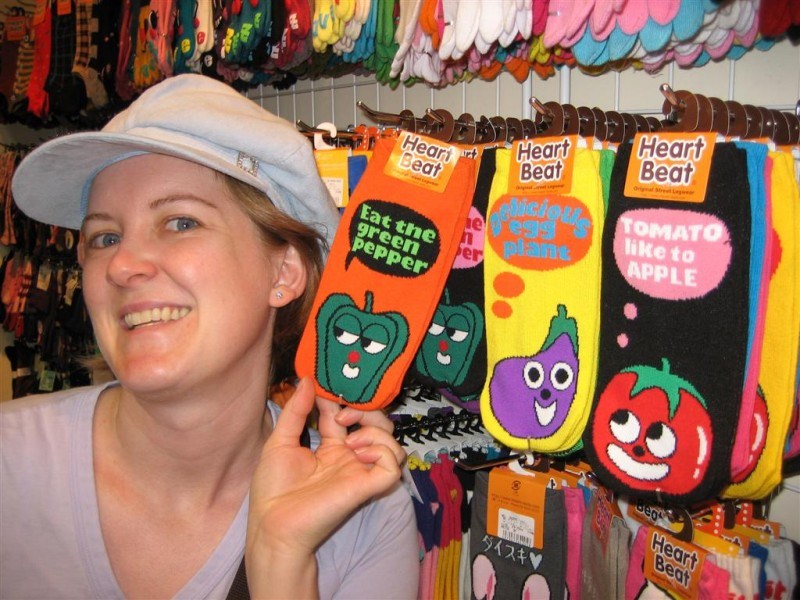 In a land where you're constanly removing your shoes, having nice socks is essential. And in a land where vegetables are popular, even among junior high school kids (talk about culture shock!), this kind of thing is bound to happen. We didn't buy any, but we couldn't resist taking a photo to remember these by. Jen's favorite seems to be " Eat the green pepper ", but personally I'm partial to " Tomato like to APPLE ." Wonder what that tomato is thinking…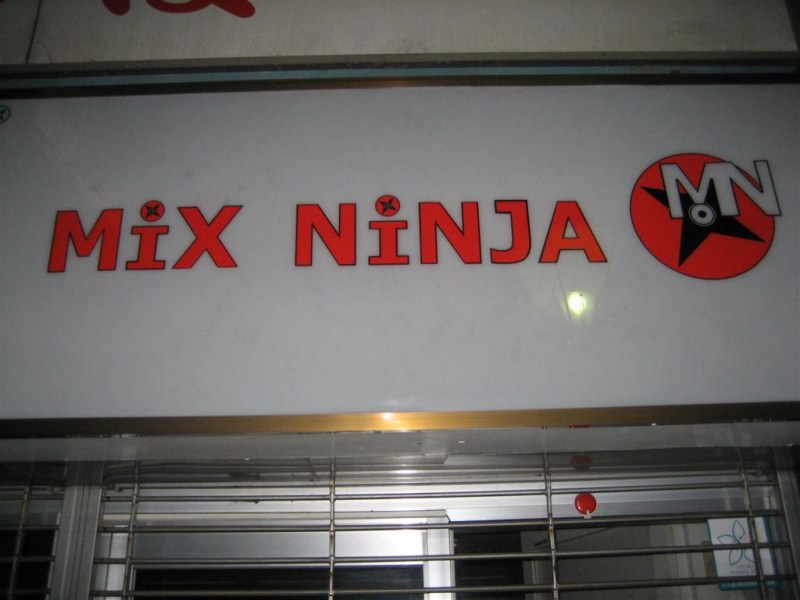 Okay, this one is for all you homies out there who have always wanted to combine your musical talents with–you guessed it–ninjas. Enter Mix Ninja. 'Nuff said. Word.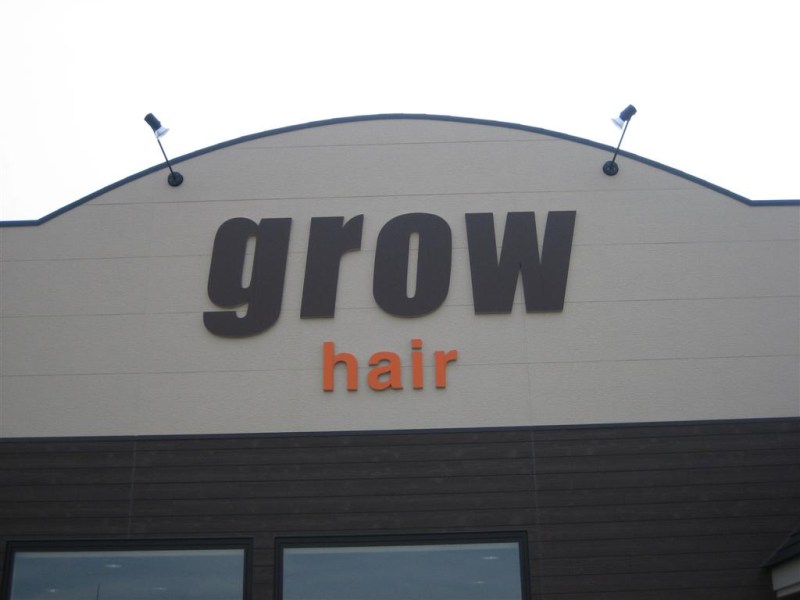 Grow Hair. Now tell me that this isn't the funniest name you've ever seen for a haircutting establishment–or any establishment of any kind, for that matter. Even so, it sure seems like there's an underlying message that's sort of weighted in the establishment's favor, don't you think?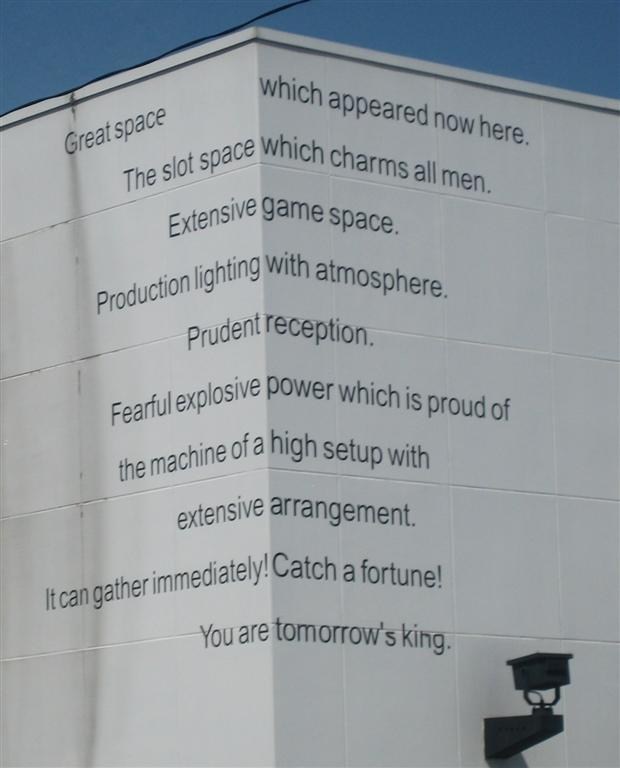 Wow. Not every pachinko parlor in town can boast " fearful explosive power which is proud of the machine of a high setup with extensive arrangement ." But this place can. And not only can it gather, but it can gather immediately! Wow. No wonder I'm tomorrow's king.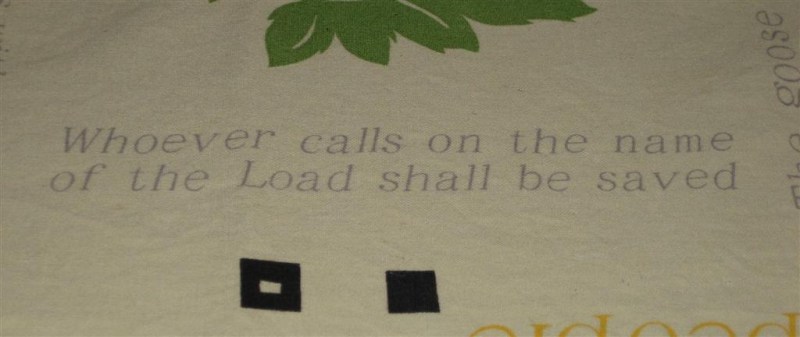 We actually found this crazy writing on the tablecloth of some friends of ours. First of all, notice how a simple spelling error can turn a familiar Scripture refrence into complete nonsense: "Whoever calls upon the name of the Load shall be saved." Then, right next to that, we found "The goose hangs high." Our reaction: What goose? And how? And why? Life is so mysterious…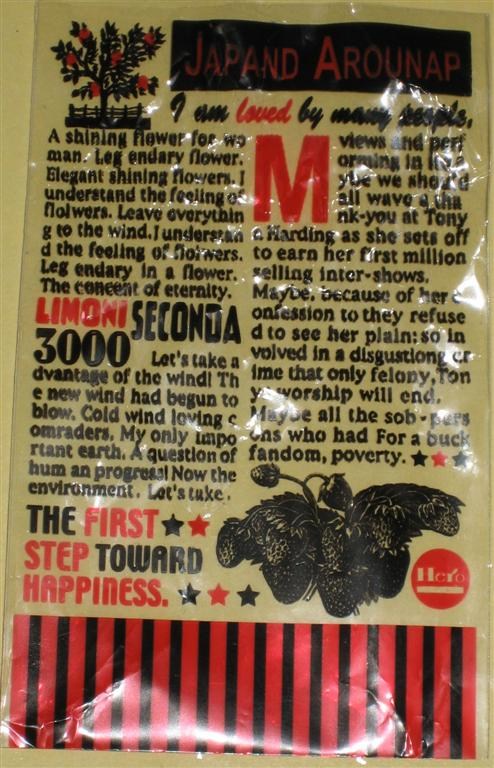 And speaking of mysterious, enter Japand Arounap. This was a random plastic bag that contained a single piece of candy, but the real treat was all the Engrish that was written on it. And this is high-quality Engrish, too. I mean, look at this stuff:
"A shining flower for woman. I understand the feeling of flowers. Cold wind loving comraders. Let's take views and performing in love. Maybe we should all wave a thank-you at Tonya Harding as she sets off to earn her first million selling inter-shows. Maybe all the sob-persons who had For a buck fandom, poverty."
Wow. Maybe one day I'll be able to write like that, too. Maybe…
Well, that's all we've got for this go-around, so thanks for tuning in to Engrish Part III! Until Part IV, take care and Enjoy Engrish!
-Mike
P.S. You for reading very much excellent blog, gratitude attatched feelings are sent via love and happy times. With pictures, one can always include assumptions about the life that is far and freely roaming in the land. When writing occurs, it has been read and enjoyed by you, all people. Happy FunFunny Times .