Ever since Facebook began to assert its unassailable hegemony over our friends' social lives, we've been blogging less and posting less pictures than we used to. But, those days are over! Yes, friends, I found a way to LINK our blog to our Facebook profile! Indeed, if you are reading this right now, you probably saw it on our Facebook page, didn't you??? I KNEW it!!! I could just tell.
Anyway, we have been busting at the seams these days with stuff, stuff, stuff–Jen's been working at her new job, doing handzoCostanzo projects and teaching Sunday school, and Mike has been working at the clinic, running the sound board at the chapel, doing handzoCostanzo projects, working on his own independent artistic projects (see previous blog), fishing (see next blog) and, occasionally, even studying. 🙂 And in the spare time that we do have, we've been getting together with LOTS of folks. Yes, life is crazy, but this is the way we like to live–with the pedal to the metal!!!
So, since we never post pics on Facebook because we HATE Facebook (yes, folks, we are part of the underground resistance against the evil digital empire), we figured we would post a few recent group pics here. Enjoy!

This first one is of us with Mike's classmates from RTS, and was taken at our favorite Mexican restaurant called El Cerro . Although it can be pretty loud, the food is pretty decent, and the margaritas are strong, so we usually end up going here whenever we've had a particularly stressful week at school. That was certainly the case a month ago when this picture was taken; we had an intensive, week long class on sex and sexuality, and by the end of it we were so tired from learning and sharing and crying and encouraging that we just needed some El Cerro-tonin in our brains! 🙂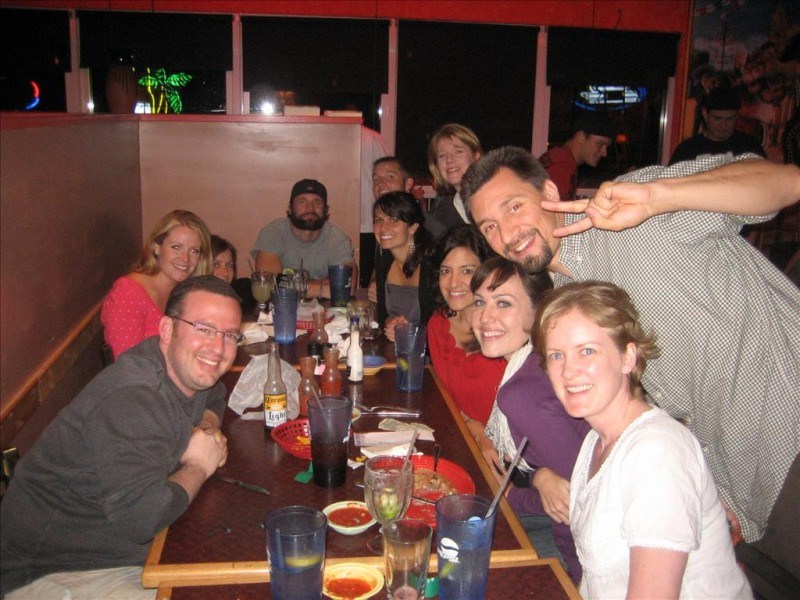 This next one was taken two weeks ago when Mike's class got together again to eat Indian food and watch Slumdog Millionaire . That is an EXCELLENT film, by the way–make sure you see it! A few of us tried to dress up in Indian-looking shirts and what not, but Abraham (who is himself from India) was wearing a normal American polo shirt…Ah, the ironies of life. 🙂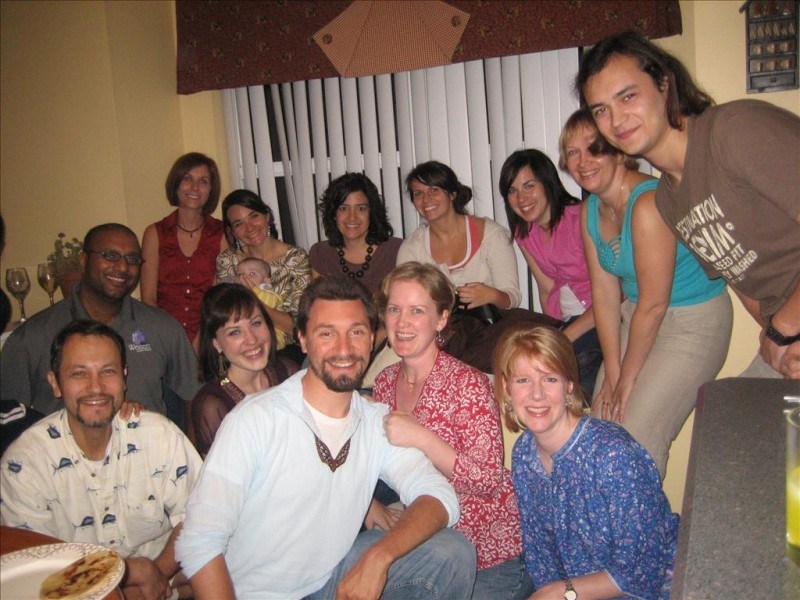 On to Japanese Ministry!!! Jen and I attend this weekly Bible study every Friday that we are not out of town or deathly ill, and it's always a blast. Every so often we decide to get a group picture of everyone, and it's always a hoot! Some of our pictures get a little…well, not incriminating, but very, very goofy and potentially embarrassing for certain parties involved… Just yesterday, one member was teasingly scolding Mike for being so goofy and being a bad influence on the group!
Anyway, here's a picture that will give you a sense of how much fun this ministry is without ruining anyone's chances of getting appointed to Congress: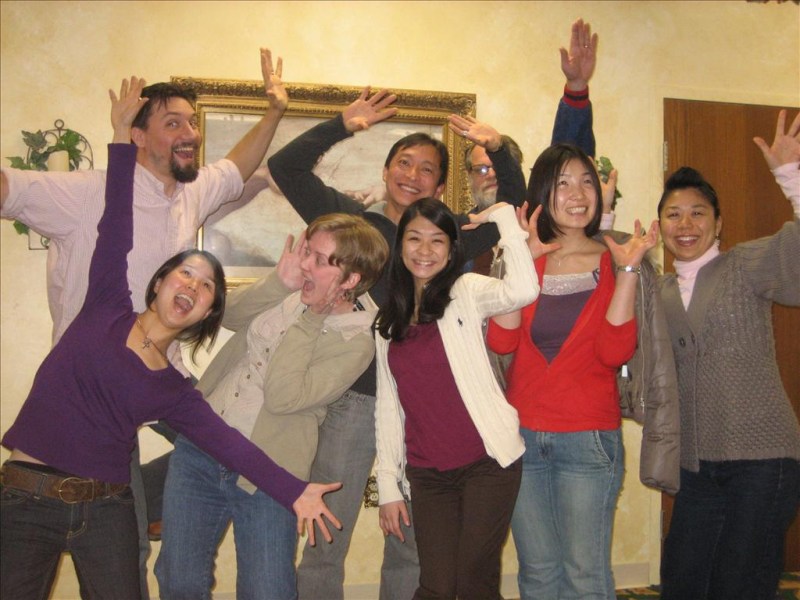 Last weekend, we went up north to visit our friends Sarah & Derrick . Derrick is also from India, and Sarah loves Indian things, so we always end up having a delightful cross-cultural experience when we're up there. Good food, good music, Bollywood movies–great times, these! Anyway, here is a picture of us together on the beach, squinting in the blinding sunlight:


Finally, a picture of us! The administrative assistant at the counseling clinic (whose name is Betty) LOVES to fish, and invited us out to fish on her boat! It was a great time–we didn't catch a single thing, but we had lots of laughs and had a great time getting to know her better. Here's a snapshot of us out there in the great outdoors: