It's been a while, hasn't it???
For avid bloggers like us, going a full two weeks without any updates feels a lot like going two weeks without doing any homework, and then trying to catch up all in one night!!! But thankfully, we're not being graded, so we'll just give you a few highlights from our first adventures in 2007.
The rest of our Winter Break was really low-key –so low-key, in fact, that even Jen (our resident introvert) was starting to get cabin fever. While it was nice to have a break, we ended up all alone for almost a week, so we were really missing everybody by the time it was all over. We made sure to go out for sushi with some teammates the first chance we got: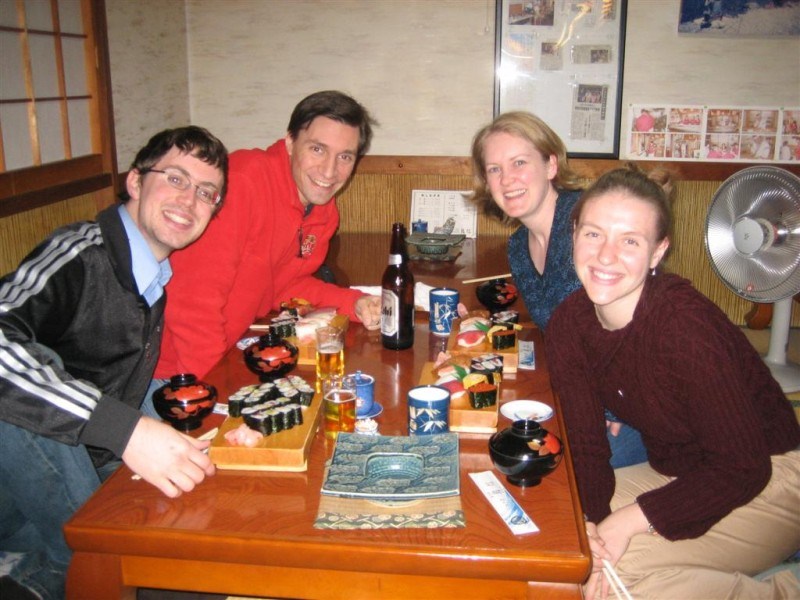 It was great sushi, but the company was even more nourishing–always is.
Oh, and we got some nice snow, too: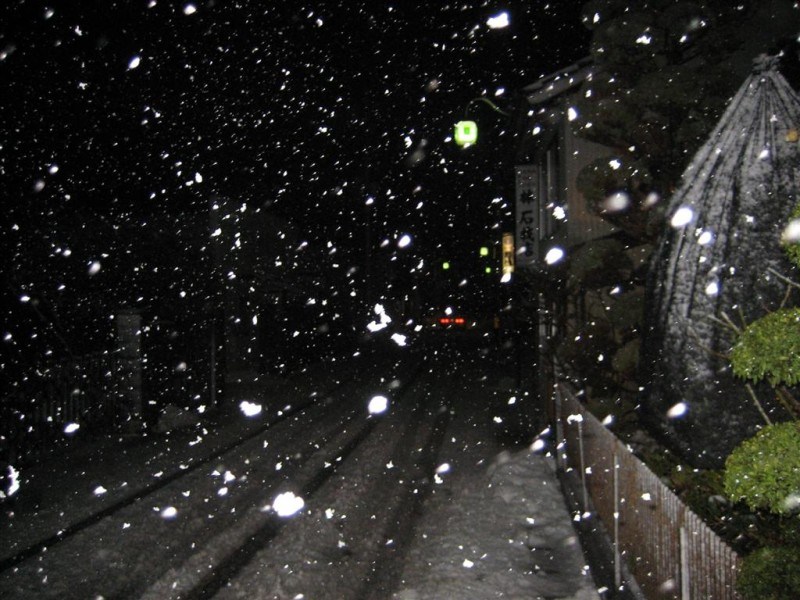 Last night, we had dinner with our bosses, Encho-sensei and Kawaai-sensei , and we presented to them a special memory album from everyone on the team that Jen and Cristy (a team member) designed together. Our bosses were thrilled–they kept repeating the word "wonderful" over and over again. Kawaai-sensei said " Heeee " (a japanese expression of surprise) so much that she sounded like a motorcycle that was constantly shifting gears. And Encho-sensei was clearly impressed, and pronounced that Jen and Cristy were "artists." One more book to add to Jen's already impressive portfolio!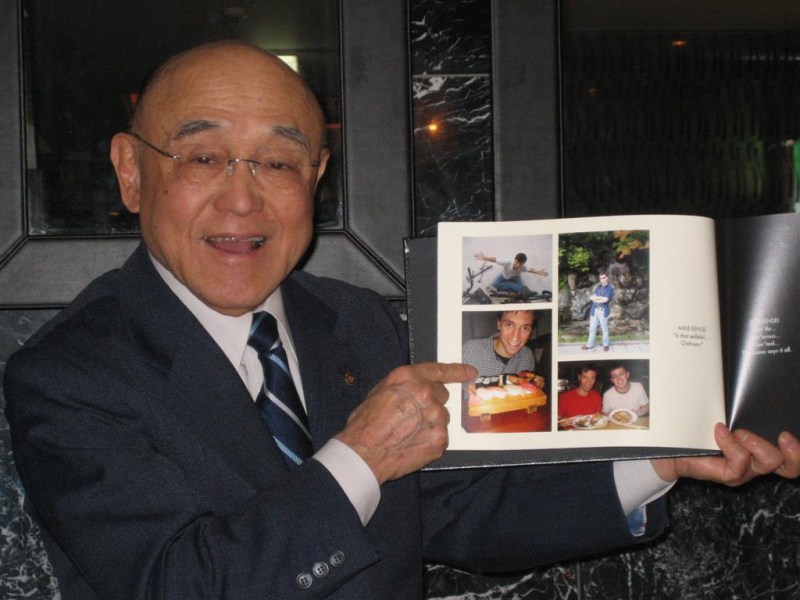 In other news, it's been COLD here recently . Thankfully, our apartment is newer (and presumably warmer) than the others' apartments, so we haven't had any ice form in our bathroom floor as of yet. But thanks to one of our Christmas gifts, we now have a sure-fire way to stay warm–stay in bed. Our bed is now as fuzzy and brown as can be, and extremely warm. Just add a nice hot cup of coffee to the mix and you'll feel like you're south of the border! Well, not really, but you'll be toasty warm at any rate. See?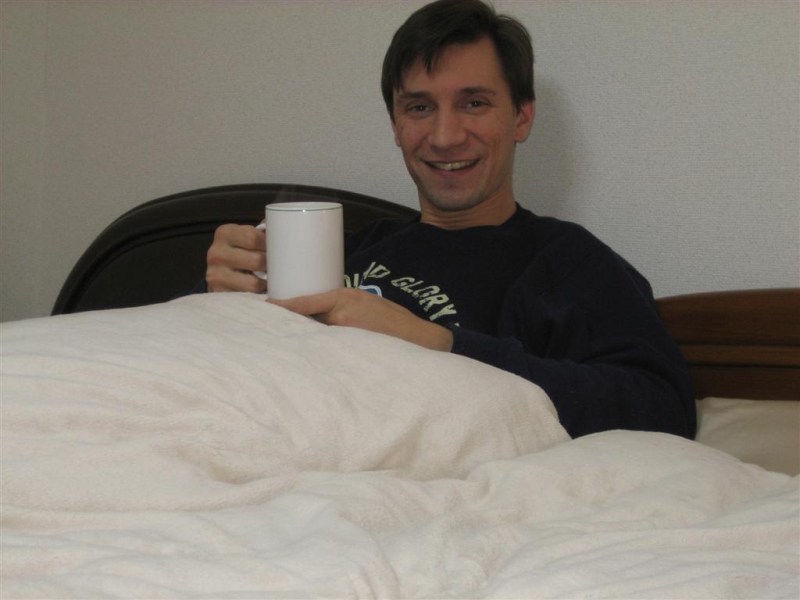 Ahhh. Also, Jen has discovered a wonderful Japanese innovation called Hokkairo . They're little flat pouches filled with some kind of chemical combination that releases heat for about 10 hours or more. You can put them in your shoes, you can stuff them in your pockets, you can stick them to your lower back–the creative possibilities are endless. And what better combo than a nice warm hat, a scarf, and a brand-new Hokkairo to start out your day? Just look how happy these things make you: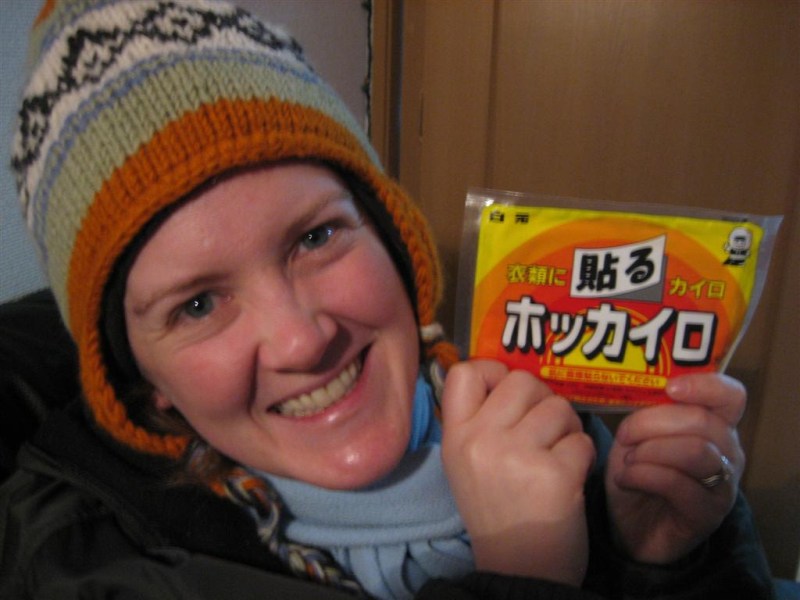 See? Happy. Lastly, Mike was busy on his new sound recording hobby, and composed a number of new skits, and even a song. His projects have gotten awfully big and complex in a hurry; they're easy to write but devilishly hard to perform. Just in case you haven't heard this one yet, here's a commercial he made for a fake TV prime-time lineup called Channel 14 Prime-Time Tonight!!!  Click twice and enjoy…
Thanks to everyone who called/emailed/wrote letters/sent up smoke signals to remind us that we were not forgotten over the holidays. It was kind of hard being away from everyone, but we know that this is how it was meant to be, and that we won't always be far away. And thanks for continuing to read our blog!!!
Who knows–maybe 2007 will prove even crazier and more wonderful than 2006 was. Let's hope so!
Happy New Year!!!
Mike & Jen