We've been thinking for a while now that about posting brief update on what God has been doing recently at Koriyama Baptist Church (our "home church"). This church has truly been a blessing to us in ways that we never could have expected. In fact, notwithstanding our Team of fellow English teachers (who are like our family), it's hard to think of a more worthwhile investment of time and energy, both right now and for the future of our ministry in Japan, than our time at Koriyama Baptist. We've made so many new friends, shared so many new experiences, learned so much, grown so much–we've gotten plugged in there in a special way. And we've also been able to be a part of some truly encouraging and exciting developments.
First on the list is Christine & Shigeo's wedding ! We actually wrote about them in our last blog: Christine is the pastor's daughter, and Shigeo (her new husband) wasn't a believer at the time. But since our last posting he has come to know the Lord!!! Thanks for joining us in prayer; it's been such a joy to have a new brother in the family. Their wedding was on June 2nd (the day before the Easter Program), and it was held at Adatara Bible Camp. The weather was beautiful and warm (perfect for an outoor wedding), the service was beautiful, and the attendance was huge (well over 100 people). Christine asked Mike if he would serve as the Assistant Cameraman! Thus, we have many wedding photos we could show you (over 200, in fact), but we'll just show you a few: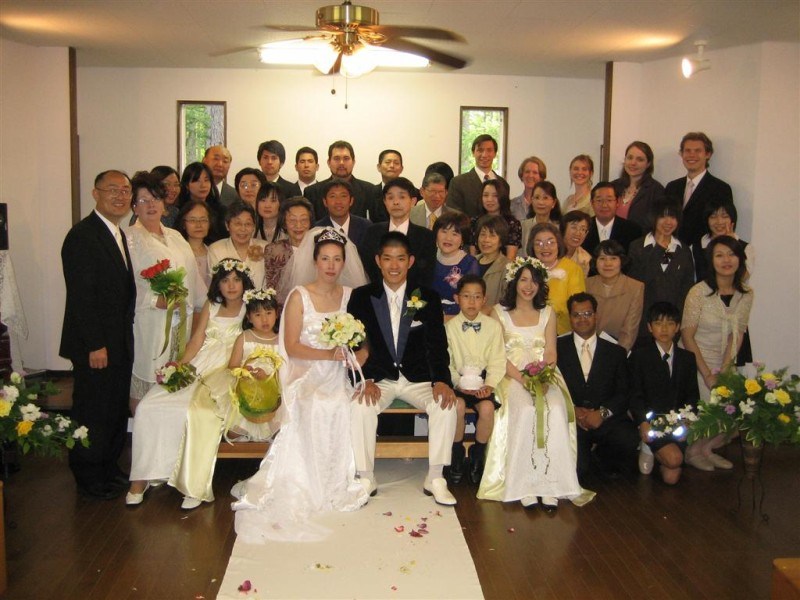 Pretty much the entire Koriyama Baptist church family showed up for this event, so this photo is chock full of familiar frends' faces. You can even see me and Jen all the way in the back.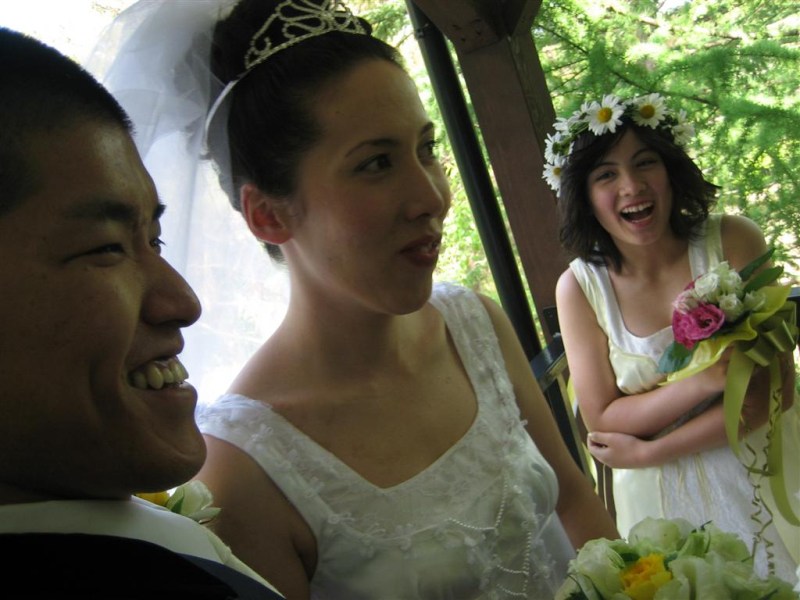 Shigeo, Christine, and Stephanie (Christine's youngest sister) basking in the post-ceremony adrenalyne rush.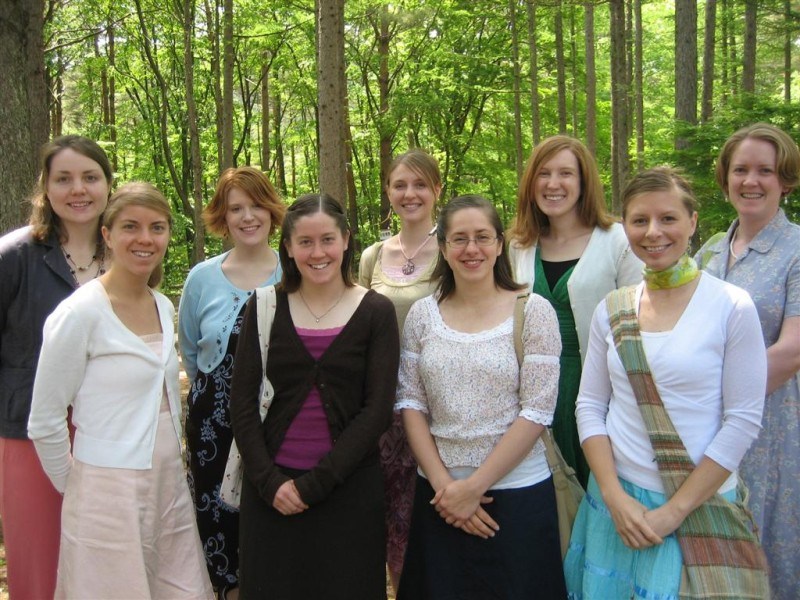 And here's a bonus shot of all the lovely Wakakusa gals who turned out for this event. Not only were there 10 of us Wakausa English teachers there, there were also 5 other foriegners in attendance (two who live in Koriyama and 3 that came here on a missions trip). So this wedding was not only unique in that it was truly Christ-centered, it was also crawling with foregners!
The next big event that we'd like to fill you in on is the completion of  the new church building ! You may remember some shots from a previous post with Mike holding a sledgehammer; well, no thanks to him, they finally finished the building in May. It has been such a joy to finally have a space that is not only more adequate for the church's needs (the old building was cramped, dusty, falling apart, and offered less-than-stellar toilet facilities), but also one that is beautiful, spacious, and offers Pastor Tajima and his family a very nice place to live. It's so encouraging to see a Japanese church that is alive enough and strong enough to embark on this stage of growth, and it's exciting to think about how this congregation will continue to grow in the future. Anyway, here are a few photos of the new building: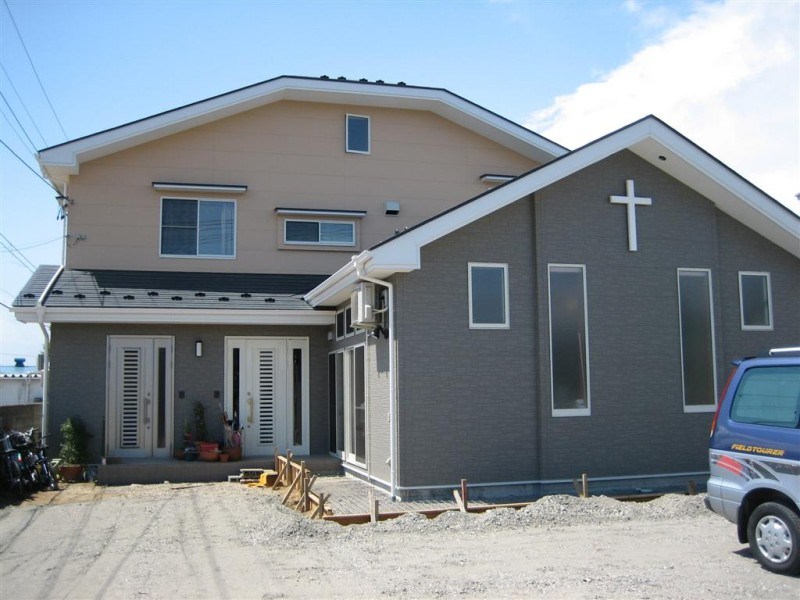 The outside of the new building. This picture was taken from where the old building (which was torn down due to its age and the need for parking facilities) used to stand. The door on the left goes up to the pastor's family's apartment, and the door on the right is to the sanctuary. It really is a beautiful building; the cross on the front even lights up at night.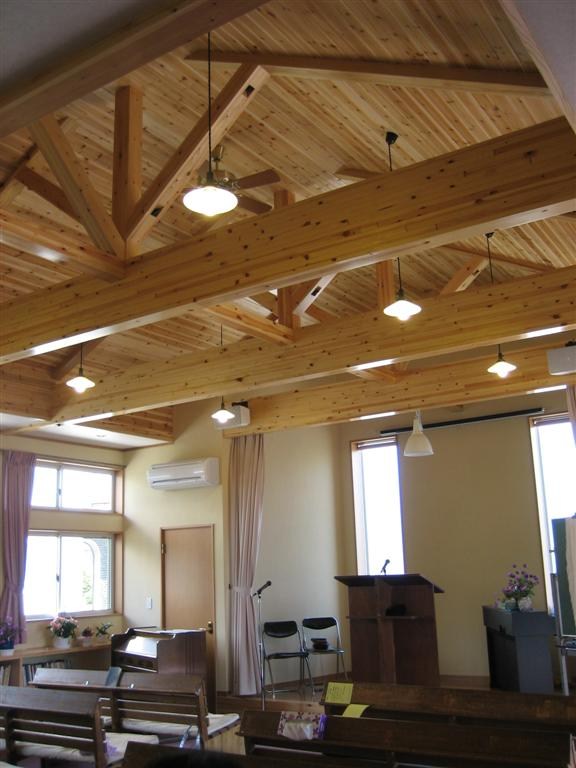 And here's a shot of the main sanctuary inside . This building is more than twice as big as the old one (maybe three times as big), and so the church can finally have a proper office, a pastor's study, cry room, and a sizeable new kitchen. Plus, the toilet facilities are A-grade!
As joyful as these developments have been, recently there has also been a sudden and unexpected shock that has hit the church pretty hard. For the last few months,  our beloved Pastor Tajima has been having vision problems, and was diagnosed at one point with a cataract. Then, last week, a new diagnosis came–he has a tumor in his brain. The surgery that he will have to undergo is not only scary in and of itself, but depending on how the 24 hours after the surgery goes, there is the risk that he will loose his eyesight completely, or possibly be paralyzed, or (even worse) that he may loose a part of his personality. As you can well imagine, this is a very scary situation, not only for Pastor Tajima, but also for his church (which needs him).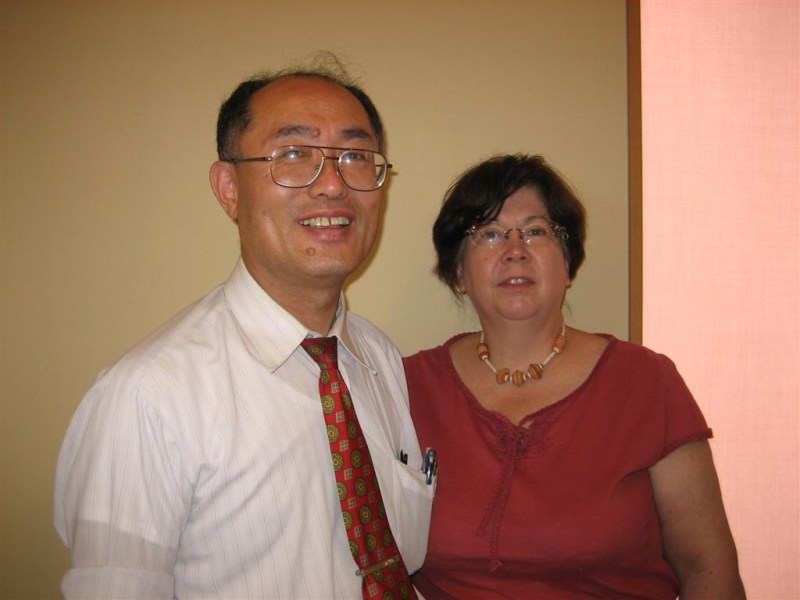 ( Pastor Tajima and his wife Beverly )
His surgery is slated for July 17th. Please join us in praying for God to be gracious in healing Pastor Tajima from this terrible disease, which even now has made it very difficult for him to even read his Bible. Please pray especially for the 24 hours following the surgery, which are also a high-risk time. And please pray for a full recovery, and for many more good years of effective gospel ministry at Koriyama Baptist. Thank you so much.
It's such a joy to share with all of you what our time at KBC has been like. It's hard to believe that it's been less than seven months since we first showed up for worship one Sunday. And this most recent trial especially has reminded us to rely on Him and trust Him no matter what. May He grant us grace to do just that!
-Mike & Jen