If you've been reading our blog, you know that we're avid amateur comedic filmmakers–in other words, we love to make crazy videos and post them on YouTube. 🙂 Well, while we were visiting our family and friends in Maryland, we got an email from our fellow film-making friends friends, Jon & Robin. They had a great idea for a new crazy new video, and asked us if we wanted to be in it. So of course we jumped at the chance–a collaborative project like this is hard to turn down. So one Friday night we went over to their house, ordered pizza, broke out the video camera, and viola! Magic was made!
The video is called "CSUAAB–Save The Ugly and Annoying Animals and Bugs", and it's a TV Infomercial featuring famous celebrities that highlights what YOU can do to save ugly and annoying animals like grubs, weevils, and cockroaches. Jen stars as a lovely receptionist and an oh-so friendly narrator, and Mike stars as Keanu Reeves and special guest star Disco Stu. We give the credit (or perhaps 'blame' would be more appropriate) to Jon, who came up with the idea, wrote most of the script, designed the logo, and edited it all together. It's truly a masterpiece–like nothing you've ever seen before. Even the logo is a piece of, um, work: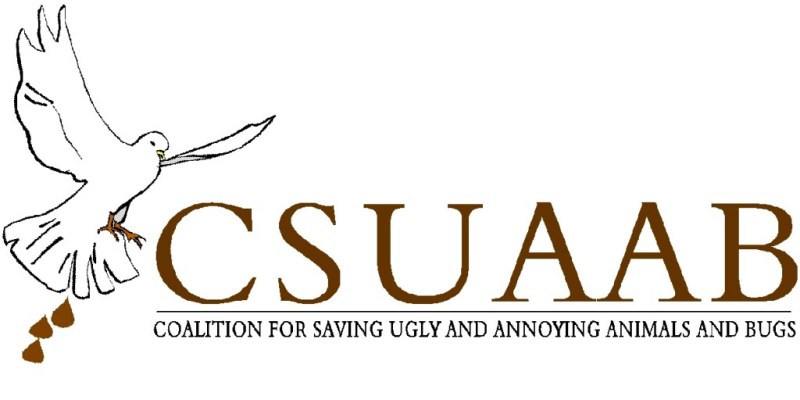 And thanks to my recently-acquired *sweet* html skills, you can watch the video right here on our blog! Just click on the little arrow and enjoy:

Remember: send your large financial donations to us, Mike & Jen!!! We'll make sure your contributions find a happy home. 🙂
Anyway, if you enjoyed this video and need an additional dose of insanity, why not check out Jon's YouTube Collection? It's impressive, to be sure–he's made like 45 videos, all of which are very much excellent, even the slightly neurotic ones. 🙂 Highly recommended.
Thanks for supporting the CSUAAB. In the immortal words of Disco Stu, Save the bugs why don'cha? Man!
-Mike & Jen