Although junior high classes have been over since last Friday, Jen's Wakakusa English School classes went through this past Tuesday. This made for a crazy few days for our Jen; not only did she have end-of-the-school-year reports to write, but she also had to prepare for eight class parties !!! But once the prep was over and the parties got under way, they ended up being a fun time of connection with the kids. Plus, Mike was able to attend five of the eight parties, which made for a special treat for everyone (both of us as well as the kids). It also made it possible to take some fun photos to share with all of you!
So without further ado, allow us to share some of the best shots from the last parties of the 2006 school year…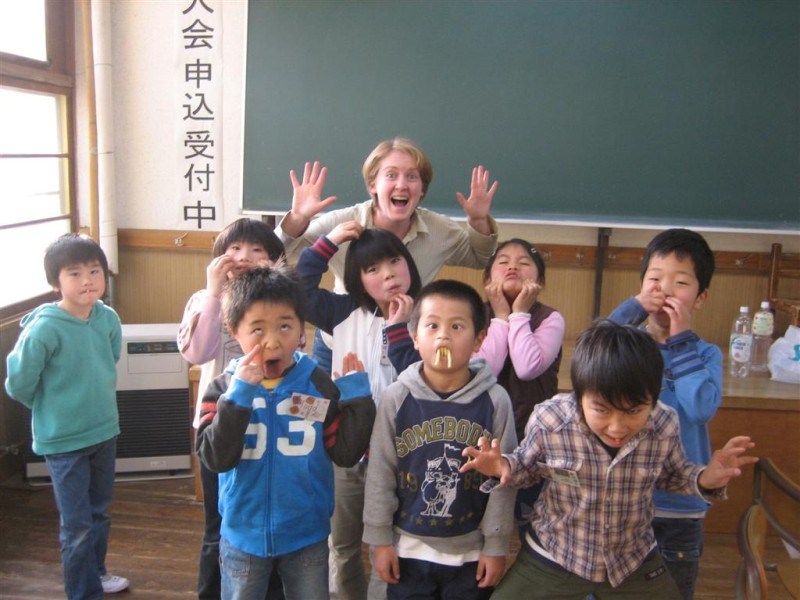 Behold the madness–of Japanese second-grader parties!!!   This party was a lot of fun, at times bordering on too much fun. You see, we never knew exactly how many different disturbing ways you could stick food in your face before, but after this party, we know. We're talking chips, potato sticks, rice crackers—it was unbelieveable. In fact, this is actually the nicest group shot from Jen's second-grade class; all the others are too weird to post here. And given some of Mike's Culinary Adventures (TM) food blogs, that's saying something…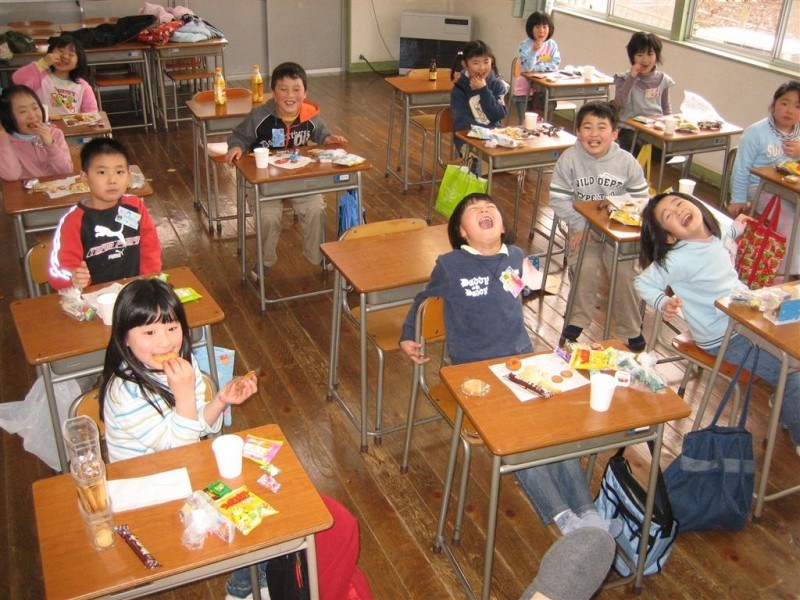 Here's a much nicer (and cuter) picture from Jen's first-grade class . See, these kids actually ate their snacks, so it made for a quieter, cleaner, more civilized time. We also had a blast playing Steal The Bacon (a wonderful game that combines color-recognition and frantic lunging for a ball that symbolizes bacon). You should have seen those kids dance when their team got a point! Lastly, we played  Silent Ball  (which is just under-handed "catch" with no talking allowed). This game is popular not only with the kids, but the teachers, who get to give their tired minds a rest from having to deal with speaking Japanese and English at the same time.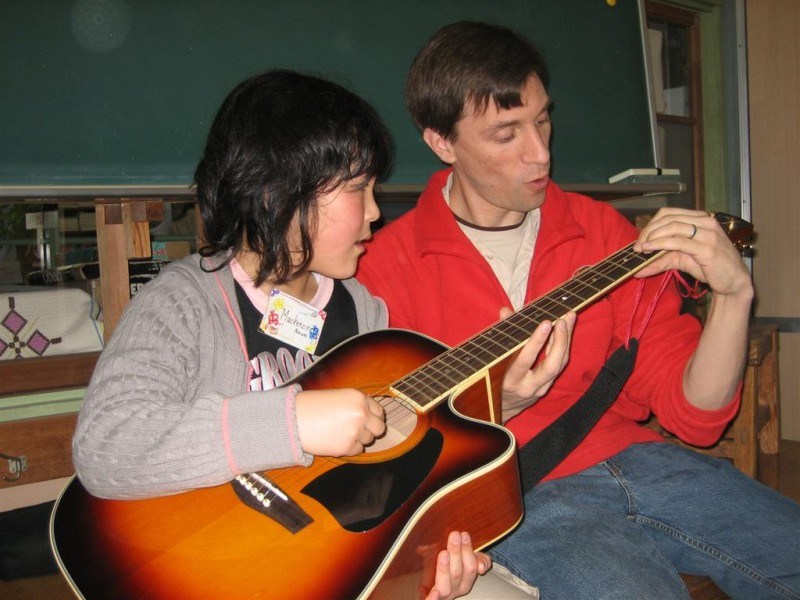 Jen's fourth-grade class was arguably the wildest (and most fun) of all. For one thing, the kids had a blast playing around with Mike and his now-famous  pin-pon-buu toy; in fact, they officially named him "Mister Pin-Pon Buu ." (More detail to come in a future post; stay tuned for that one.) When they weren't stuffing their faces with food or playing Sit-On-Your-Desk Silent Ball (a self-explanitory variation on the original game), they were either playing his guitar or taking his guitar pick and running away. Definitely the loudest party in recent memory, but lots of fun nonetheless.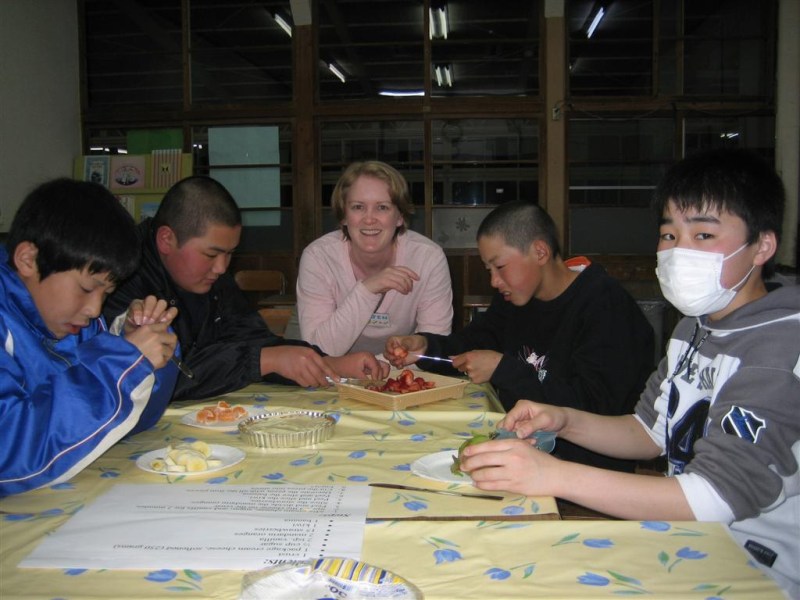 Enter Jen's seventh-grade boys , a.k.a. her "bad boys". Not that they're truly "bad" kids or anything; they're just disobedient, overly talkative, and generally obnoxious most of the time, which makes this class far and away the hardest for Jen to teach. But this past Tuesday, with Mike there and no lesson plan to try and circumvent, they were actually pretty good much of the time. They were even pretty compliant with the fruit-chopping activity that Jen had prepared, which is borderline-incredible. Either they were just happy to have a class period with no particular academic agenda, or they were aware that Mike could understand most of their smart alec remarks! 🙂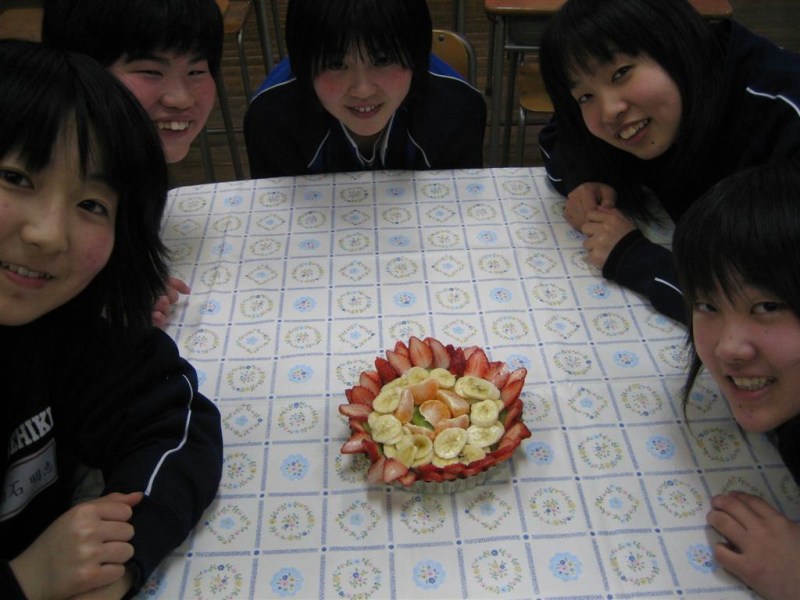 And last but not least, here's a shot from Jen's eighth-grade girls class. The main event was the same as in the boys' class–making a fruit pizza! The idea is, you bake a sugar-cookie crust in a little pie pan (which Jen did in advance), spread on a mixture of cream cheese and sugar, and top with freshly-chopped fruit. It was a hit with all of her classes, but the prize for nicest-looking fruit pizza definitely goes to the the eighth-grade girls. Overall, it was a fun and relaxed time; the girls have been busy with their studies lately (they'll be ninth-graders soon), so it was nice to have a chance to just hang out and do something fun for a change.
And with that, the 2006 school year has officially drawn to a close. We never could have imagined that teaching English here in Japan would be so crazy–and so much fun. And if the testimonies of our fellow English teachers are to be believed, the longer we're here, the crazier (and more fun) it will get. Just think what it'll be like in a year! We'll just have to wait and see.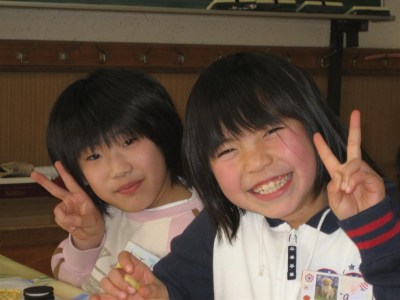 That's it for now! See you next time!!!
-Mike & Jen