As we mentioned in our last entry, April is the month of new beginnings, and March is the month of conclusions and endings. Well, it's also the month for graduation ceremonies, and for us English teachers that means a lot of sad goodbyes. You see, in Japan, you don't just drift into high school; you have to select the high school you want to go to, and then test into it. That means that everybody goes separate directions after junior high, and so it's likely that while I'll still see some of these kids on the train or around town, others I'll never see again. All of this combined makes graduation from junior high school a big deal here in Japan.
This past Tuesday was Takine Junior High School's Graduation Ceremony, and it was indeed a big deal. Even though it was a work day for most parents, many of them chose to take the day off (gasp!!!) in order to be there. There was a whole panel of 20 important guests, including the Chairman of the Board of Education, the Chief of Police, the principals from all three local elementary schools, the head of the PTA, and even the head of the local post office (go figure). It was stiff and formal, and very, very cold (the gymnasium was only 46 degrees!), but it was good. A little sad, and somewhat linguistically perplexing, but good.
Below is a picture from the ceremony itself (these are all graduating 3rd-year students) and a new "video blog" that captures some of the feeling of being there, plus free cheesy commentary by yours truly. Enjoy!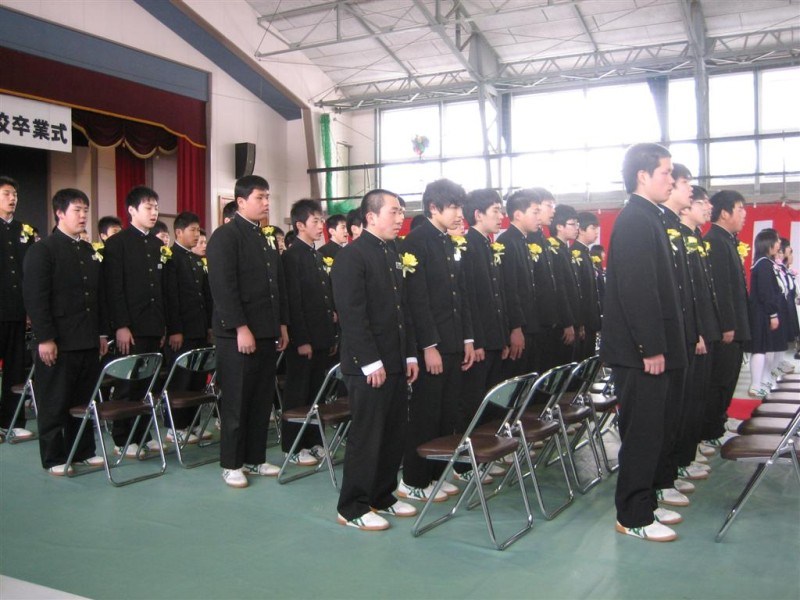 After the ceremony, we formed a recieving line outside the school doors (in the below-freezing, windy weather!) to see the now-graduated 3rd-year students off. That was a really nice time of closure for me; I got to shake hands with each one of them and tell them "Omedetou" ("congratulations") from the heart. I've never seen them so happy before—not like that, and not all at the same time. Everybody was all smiles: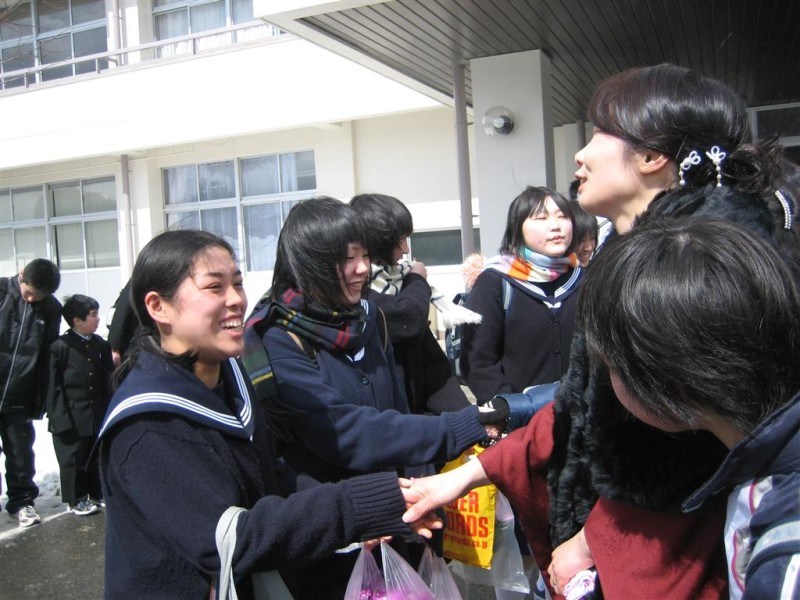 That elegant lady in the red kimono on the right is Takahashi-sensei, my teacher. One of the graduating classes was her homeroom class, so she got decked out in formal Japanese style. That was just another surpise that just added to the surreal feel of the day.
And then, I got this shot: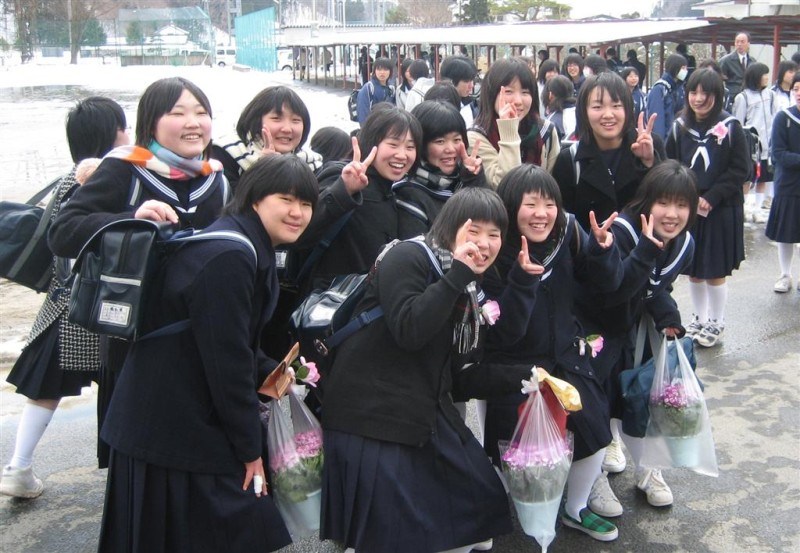 I actually stole this shot from somebody else; I just walked over and grabbed it. Then, when I looked at it more closely, I saw that almost all the girls were looking right at me! Awwww. I take back what I said about junior high-schoolers never being cute. You just have to catch them on the right day. 🙂
When the day was over, I felt tired—both physically (from shivering so much), and emotionally (from so many goodbyes). My thoughts were with my kids as they embarked on this new, very important stage of their lives. But more on that later. I'll leave you with a quote from a previous ALT that very accurately sums up how I felt:  I'm sad because it's over, but happy because it happened.
And just think–I have to do it all over next year! Sometimes I think this job is more than I bargained for…
-Mike