Today we had our long-awaited Easter Program, and praise God, it was a smashing success!!! Thanks to all of you who prayed for this event; everything went smoother than we ever thought possible. There were no accidents, no major spills of Easter Egg dye, nobody got lost, nobody got hurt, etc.–everything went off without a hitch. We also got some major help from the members of Funehiki Evangelical Church, which was a huge blessing. The gospel went out in many different ways, and seemed to be comprehensible to everyone. And everyone who came really seemed to be having a good time. So thanks for praying–it was a big hit!!!!
And we mean BIG–I believe the head count was somewhere around 298 people!!! And if you think that's crazy, most of them (75-80%) were kids! See for yourself: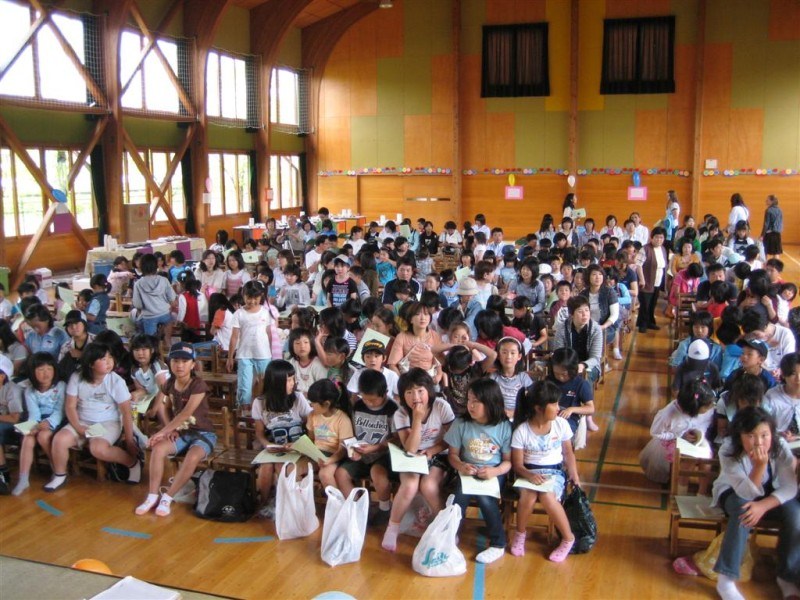 Make no mistake, this was a crazy crowd! It really is a miracle that things went as smoothly as they did.
We were able to share the gospel in a variety of ways. First, we told the Easter Story, straight from Scripture (selected in Japanese by Mike), using picture cards. Then, we performed a drama written by some of the girls on the team that expressed the gospel through the colors of the "wordless book" (Black–our sin; Red–Christ's blood; White–washed clean; Gold–hope of Heaven; Blue–Holy Spirit; Green–growth in Christ). We sang two songs: In Christ Alone (in English) and The Wordless Book Song (in Japanese)–Jen played piano and I played guitar, and we both sang. Then, we had a 45-minute craft time where people dyed Easter eggs, made cell-phone "charms" from colored beads (corresponding with the drama and the song), and consumed mountains of baked goods. And finally, as people were leaving, we had free New Testament Bibles laying out on a table for people to take, and we ended up giving away 158 Bibles! Talk about broad sowing of the gospel! So while the planning and preparation for this event was intense (everyone on the team is exhausted ), it was definitely all worth it. We trust that God used this time to plant many seeds in people's hearts as they heard the Good News for the first time.
Now for a few more pictures to give you a sense of what it was like…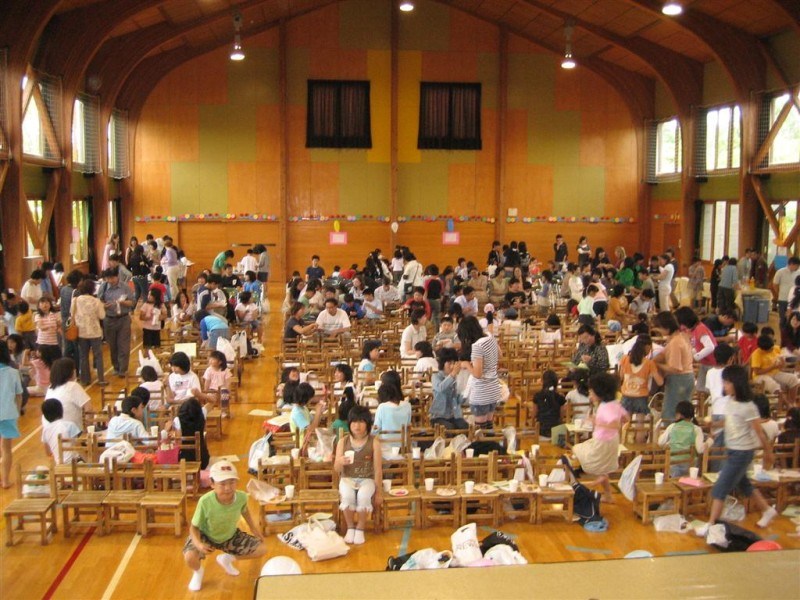 This was taken during the craft time. We had  tables all around the perimiter of the room, so people were literally everywhere! Again, this could have been total chaos, but thanks to your prayers, things flowed quite nicely. Each one of us English teachers was at a different station, helping people make their crafts. Jen and I were both working at the cell-phone charm-making stations, trying as best as we could to explain things in Japanese. Thank goodness for the kids who ended up translating for us! 🙂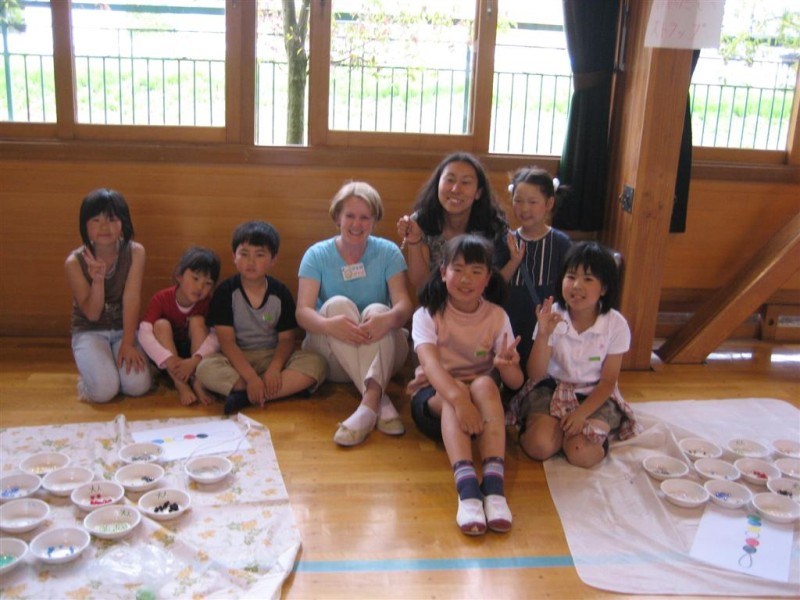 Jen and a few of her best bead-makers. The kids really got into this; some even made multiples (one girl made six!). We were also glad that many of our adult friends came as well, including Hiromi-san, our good friend from the Baptist Bible Camp (next to Jen). Having here there was really encouraging.
The Easter eggs were a big hit as well. Here's another of our good friends, Ryo, dyeing eggs and goofing around with the kids at his table. (Incidentally, a co-worker who didn't come to this event asked me why Easter eggs were associated with Easter. I told him that an egg has a new life in it, and just as a chick will burst out of the shell of the egg and emerge as a new life, Jesus burst the bonds of the grave and emerged in newness of life. Of course, I said all this in Japanese, so it wasn't nearly as eloquent, but still, what a great symbol for Easter!)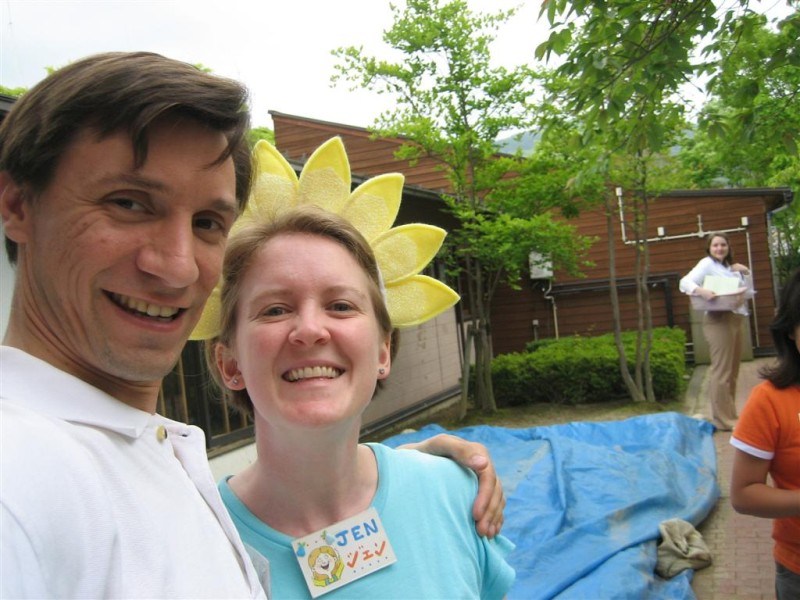 Lastly, here's us standing by the door to greet people with a smile and flowers on our heads! (Oops, I guess I forgot to wear mine for the picture, but I definitely had it on!) The kids loved it, although some were confused as to why exactly we were wearing flowers on our heads. "Because it's Easter!" we replied. At this, many just walked away confused. Hey, it makes sense to us …
And that's about the size of it! We really do praise God for being able to hold an outreach event this large and this successful. Hopefully this is only the beginning! Please pray with us that He will bring many new faces to church and to Sunday school, and that the seeds that He has planted will come to fruition. And pray that we'd be able to do more of this kind of event in the future!
-Mike & Jen