Remember when we first arrived in Japan, we got to meet the mayor of Tamura, have sea cucumber sushi on the moon with (ex-)Prime Minister Koizumi, and all that? Well around that time we also met the Chairman of the Tamura City Board of Education, and as a gift he gave us free tickets to Abukumado. The full name is Abukuma Shounyuudou (the name means Abukuma Limestone Cave), and it's a huge attraction around these parts. And to top it all off, it's in Takine, where Mike teaches all his schools! So partially due to the hype, partially because Mike works there, and partially because we had free tickets from the Chariman of the Board of Education, we decided we definitely wanted to go someday.
So this past Saturday we finally go around to going. And we sure waited for the right day, too; we couldn't have asked for nicer weather. It's about an hour's walk from the train station, and we were loving every minute of it. Blue skies, cool breeze, bright sun–it just doesn't get any better. Here's a picture we took from the top, near the entrance to the caves: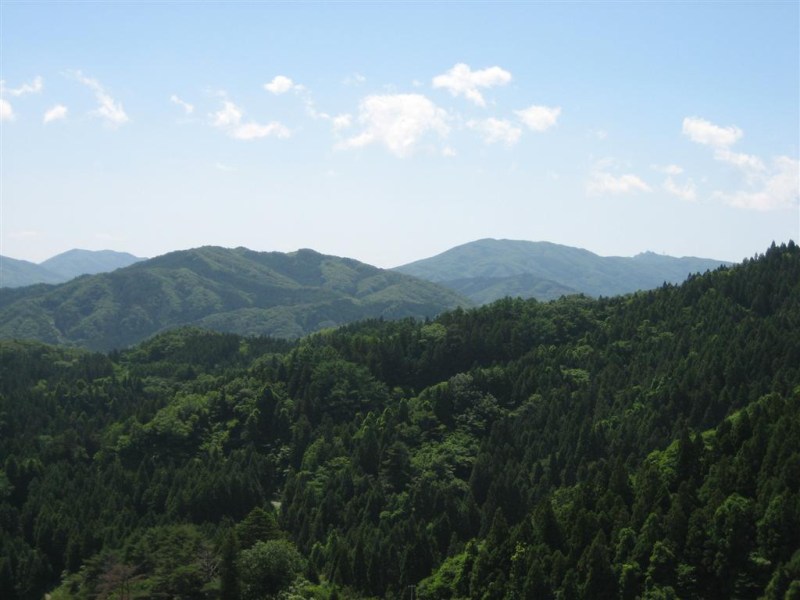 See? What did I tell you? Gorgeous. I (Mike) also got this picture , which I'm quite proud of: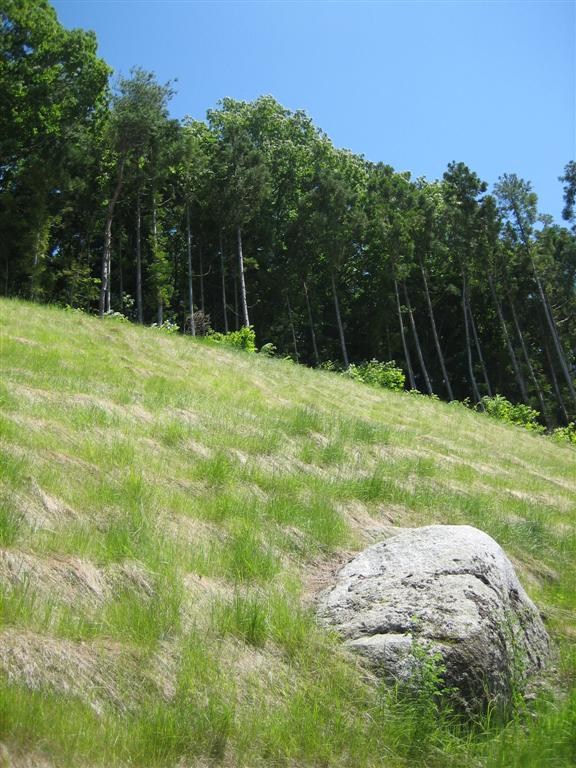 Fun compositional arrangement, bright colors, vivid textures–amatuer photography is cool. 🙂
And the scenery inside the cave was no less striking. Check it out: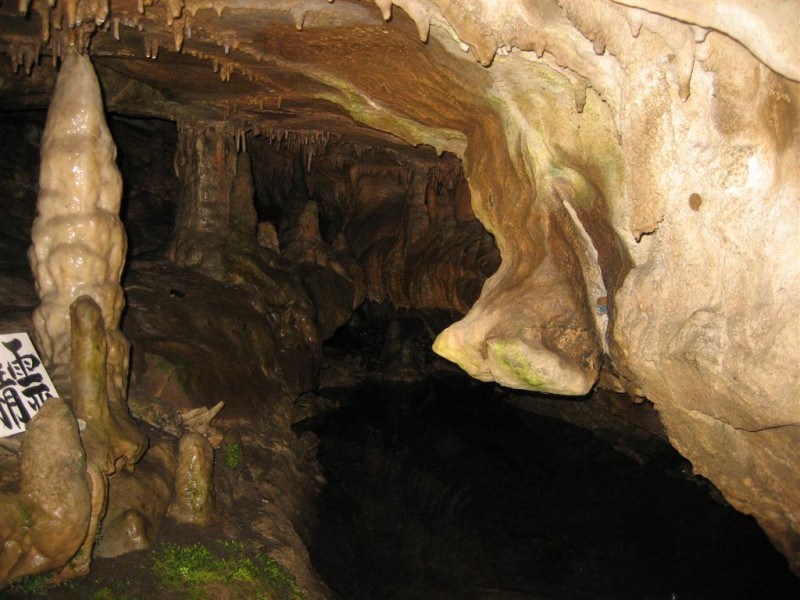 See? That's why they call it the  "Abukuma" Caves . You see, "Abukuma" is old-school Japanese for "Pretty Flippin' Sweet". In fact, whenever you see something awesome or amazing, everybody always exclaims, " Abukuma !" which means, "Holy Cow! That's pretty darn awesome!"  Seriously!
Anyway, here's another similarly "Abukuma" shot with some more  fun textures and such: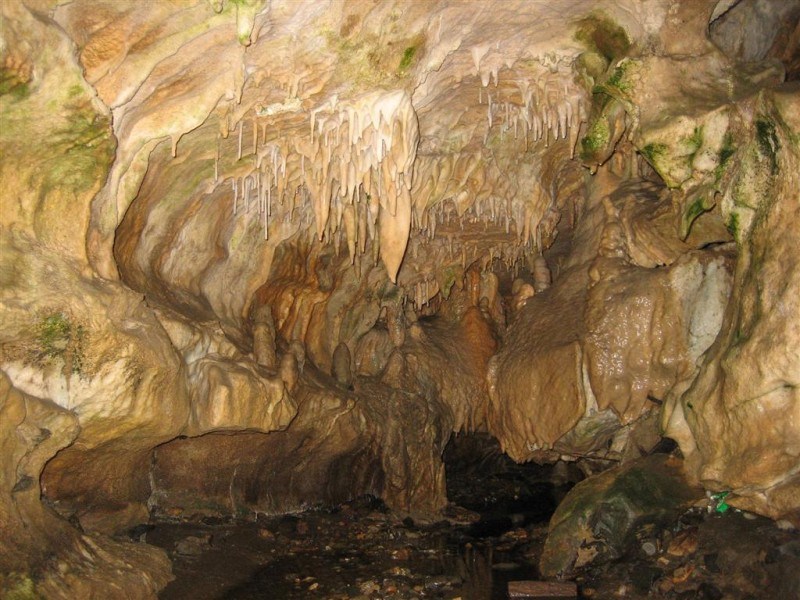 Amazing, eh? Nature rocks !!! (HAHAHA! Get it? It's a cave, and it's full of rocks…So it's funny ! Hehehe…I like puns…)
And not only was the natural beauty itself very "Abukuma", some of the sections of the cave were lighted up with colored lights that made it even more so. For example, this shot of "Mushroom Rock" below was taken without a flash, and was not touched up in any way. This is actually how it looked: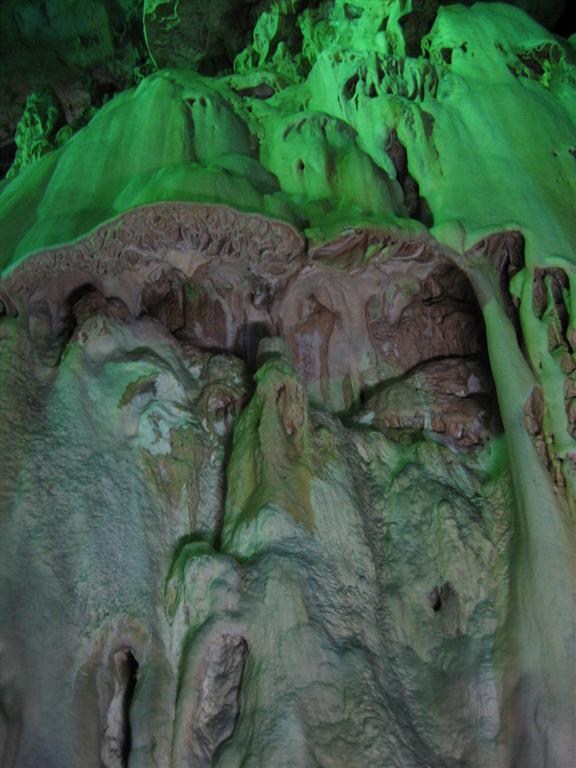 George Lucas, eat your heart out! Check out the intricate interior lattice-work–it almost looks organic. Kinda like the planet Geonosis from Star Wars Episode II , except it's green and it's not crawling with evil insect-like aliens. At least it wasn't when we were there, anyway.
Here's one more shot from inside the caves, in a section called Moon World that was all lit up like a big, wet, underground limestone Christmas tree: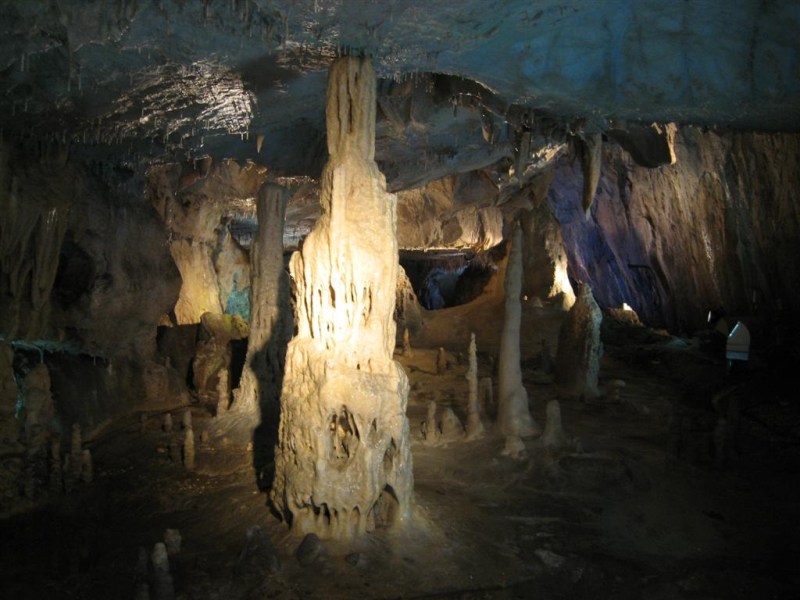 Merry Limestone! Hohoho from Abukumado! Ok, I'll stop…
After we emerged, the sun was shining brighter than ever, and we took advantage of the warm weather to enjoy some lavender ice cream . Yes, lavender-flavored ice cream. It was really good! Here's a shot of Jen lounging in the sun with her purple ice-cream cone: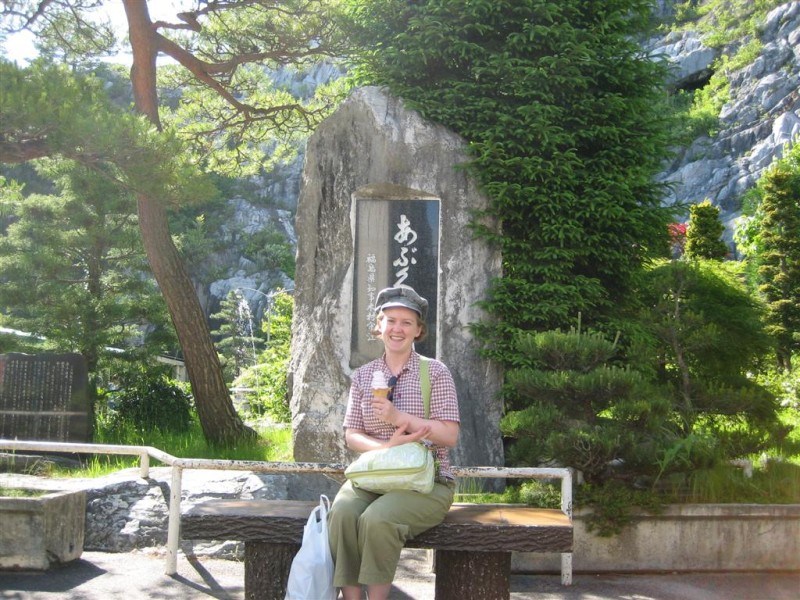 And finally, here's both of us with our summer hats and our ice cream cones, a little tired, but feeling pretty good after a good afternoon's caving: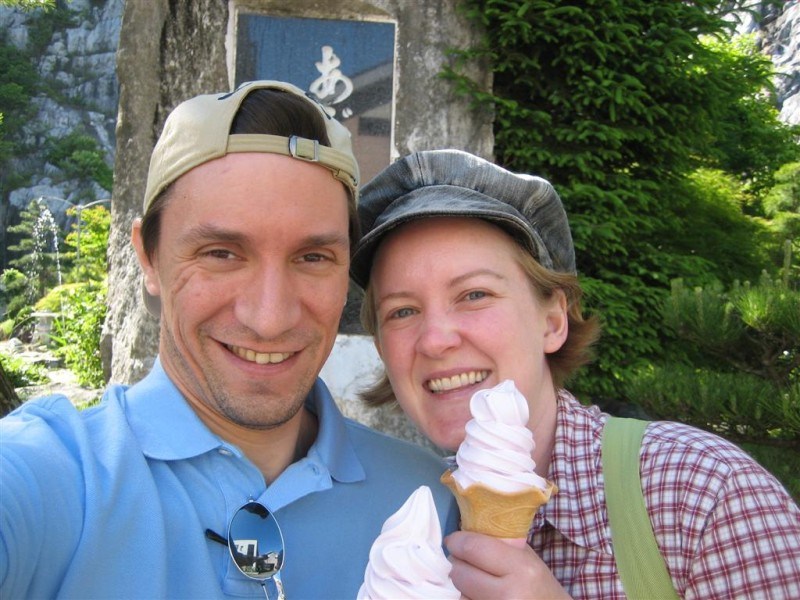 Now that's what we call a well-spent afternoon! Thank you, Mr. Chairman of the Board of Education! And thank you Lord for creating it all!
Gotta love the adventure…
-Mike & Jen