Hey everyone!!!
Here we are, all four of us (Mike, Jen, Benno, Nate), sitting in the airport and waiting for our flight. Praise God; we got through security with no problems, and in record time!!! The hand of the Lord was definitely with us. It's wonderful to see such a powerful and immediate answer to prayer.
So…what are we feeling??? All of us (with the possible exception of Nate, who has been sick all week) are in high spirits. Whether it's the excitement of living out the long-appointed day of traveling halfway around the world to our new home in Funehiki, or whether it's the sugar and caffeine, we can't tell. Plus, Nate and Benno stayed up all night (!!!) for the sake of a scientific experiment in eliminating jet-lag. Jen and I, on the other hand, slept for a whopping 4 hours, so we're perky and chipper. Whoohoooo!!!
And now, in an unprecedented feat of techno-geekdom, here is a picture taken 2 minutes ago of us, right where we're sitting right now! Yes, welcome, humble reader, to the world of REAL-TIME BLOGGING!!!!!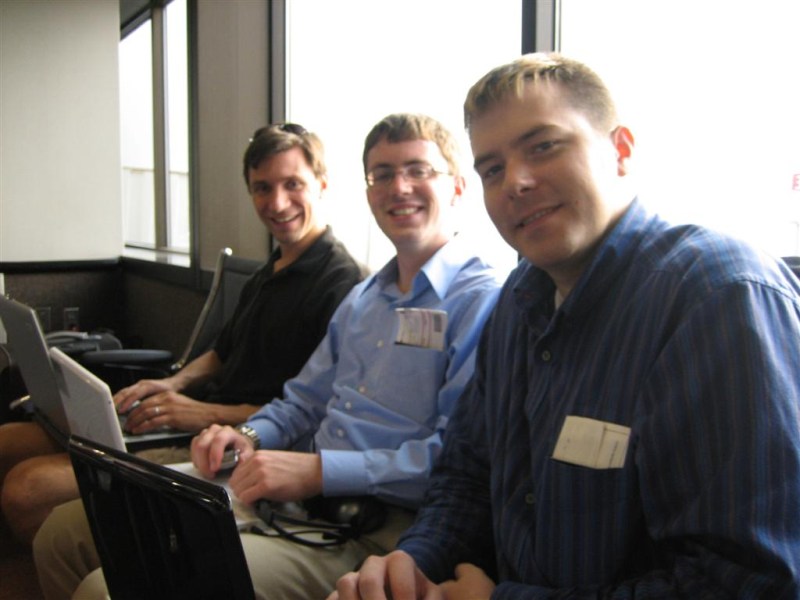 Tah-dah!!! Here we are!!!
See you in Japan!!!
-Mike & Jen