Many of you may have noticed that in the past month we've been posting lots of pictures of us, of our team, of local scenery, etc. But so far, we haven't posted any pictures of our employers, and especially of Mr. Maki (we call him Encho-sensei), the pastor of our church, the head of the Kindergarten, and the man behind the whole ALT program here in Tamura. The reason for that, regrettably enough, is that he has been so incredibly busy that we have seen very little of him in our month here.
So it was a rare treat indeed to be able to spend a whole evening with him and Kawaai-sensei (the head of the English school and our direct superior) last week. They took us out to the fanciest, most incredible Chinese restaurant we've ever been too. This was literally five-star dining, not at all what you would think of "Chinese food" as being in the states. We're talkin'  seven courses, with each one being an incredible delicacy. So of course we're thankful to have been given such a wonderful gift.
But much more than the food, we're thankful for the time we were able to spend with Encho-sensei and Kawaai-sensei. We were able to hear more from Encho-sensei about his heart and vision for Japan, and we enjoyed the chance to just laugh and spend time with them both. It was a precious opportunity that we're glad we were able to have.
And speaking of rare treats, here is a picture–the first of its kind–of Encho-sensei and Kawaai-sensei with all 13 of us team members. This may well be the last time that all 13 of us are in the same room at the same time (since Nate will be going away to Tokyo soon), so this was definitely one to relish. Here it is: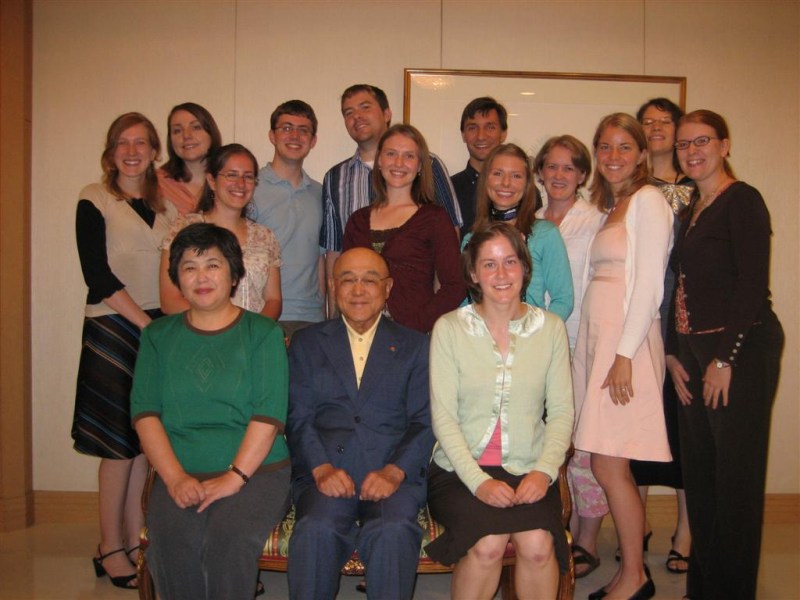 (Back row, from left: Adriane, Patty, Trisha, Benno, Nate, Lis, Mike, Holly, Jen, Tammy, Cristy, Carrie. Front row from left: Kawaai-sensei, Encho-sensei, Jeni.)
And here's a picture of us at the hotel/restaurant, enjoying our incredible meal: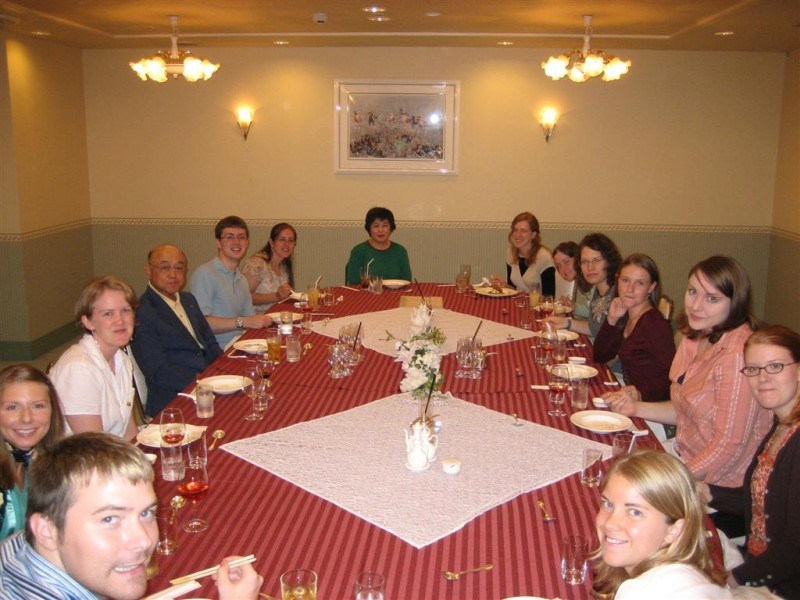 Wow. That really was a special time. Hopefully there will be many more like it in the future! Encho-sensei, thank you for everything!!!
-Mike (& Jen)
P.S. Here's a bonus pic that I took in the elevator for no good reason that seems to capture the feeling of the moment as well as the overall goofiness of our team: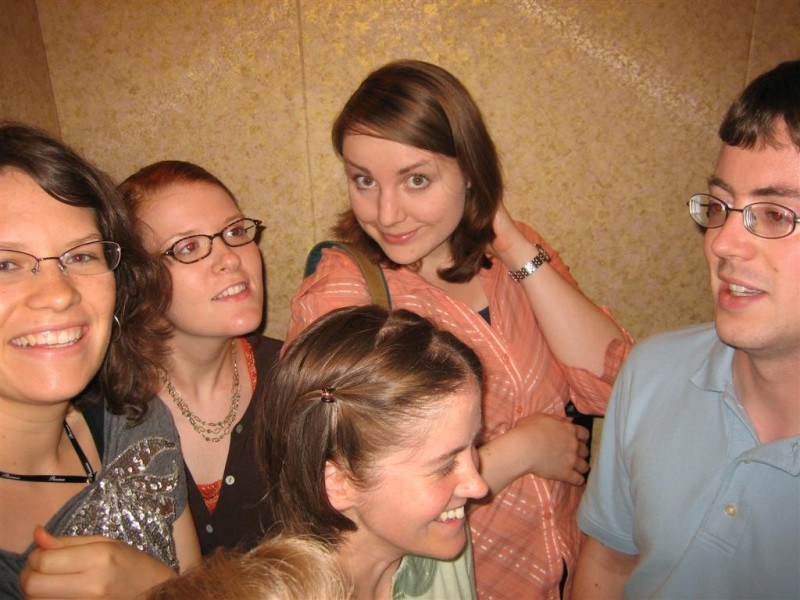 Ah, the joys of spontaneous digital photography…