Last Sunday (9/24) we (the Funehiki team) had an incredible opportunity to share our faith and our love for God in the most unexpected of places—a secular Folk & Pop Concert at the Funehiki Culture Center.
Apparently, the concert organizer heard that the team likes to sing in public (such as at the Lions Club, the Rotary Club, and even once at a local bar!), and he asked the team (last November) to sing at his upcoming folk & pop concert. And amazingly enough, he asked us to sing what we like best— Christian worship songs! Strangely enough, Gospel music is pretty popular right now, and the fact that we are Americans and can sing American worship songs makes us a rare commodity. Jen and I are thankful that we arrived just in time to be a part of this unique project.
In fact, it's such a unique collaboration that we actually made the newspaper (again!!!). Actually, we made it into both of the major prefecture-wide newspapers–towards the back, but still enough for lots of people to tell us "I saw you in the newspaper!" [Including our article about meeting the mayor, that's three times in a month and a half that we've been in the local newspapers.] In fact, when Mike showed up for work on Friday, the principal gave him a copy of that morning's newspaper which was advertising the concert: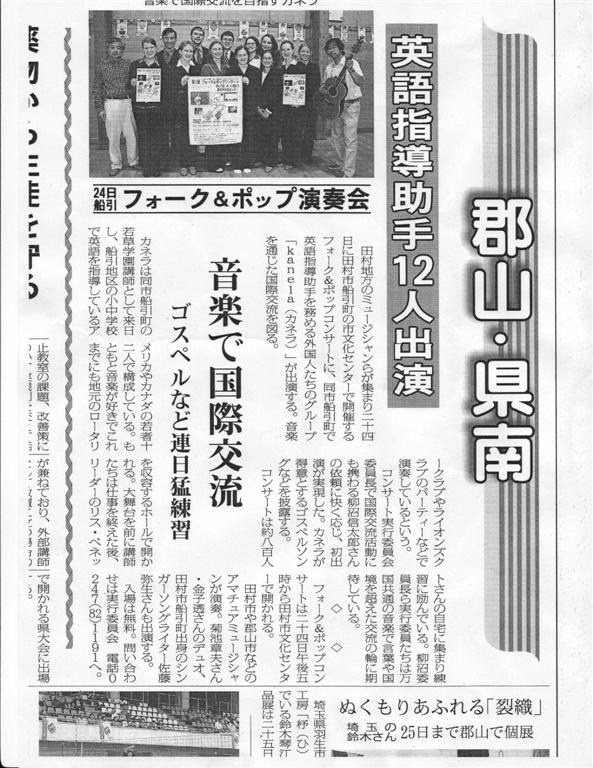 That's us with the concert organizer (who is also an amateur musician himself). The main headline reads, "12 ASSISTANT ENGLISH TEACHERS PERFORM" , and the sub-caption reads, "Intercultural Exchange Through Music." And that it was, but hopefully it was something so much more than that, too.
Our band's name was "Kanela" (which means Cinnamon in Greek), and has a story so crazy that we won't both to recount it here because you won't believe us. We sang three songs: Amazing Grace (which many Japanese people know and like), Your Love is Extravagant (a modern-day praise song based on the Song of Solomon), and a medley of  Swing Low, Sweet Chariot and When The Saints Go Marching In . And, if that weren't enough, Mike got to introduce the band and all thee songs in English…AND in Japanese!!! That was an adventure, to be sure!
In all, I think we performed to about 300 people, maybe more. It's amazing to think that we just had the chance to basically give a sort of heartfelt personal testimony of the love of God in front of hundreds of Japanese people! This was totally a God thing–we couldn't have arranged this on our own even if we had tried.
Without further adieu, here are the pictures that I'm sure you all have been hoping for…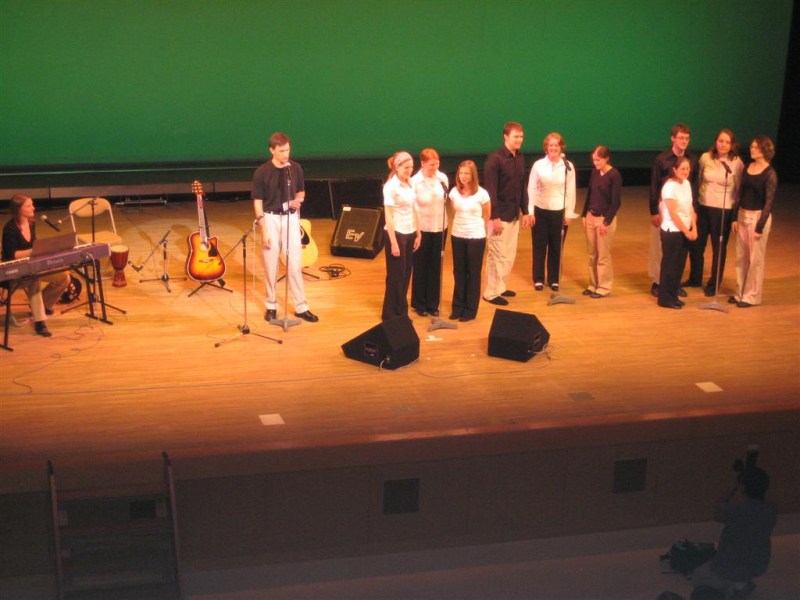 That's us, on stage, introducing ourselves. We were spread waaaaay apart, which was a challenge, but we managed somehow. Note Mike holding a tiny white scrap of paper that was his very life at the moment (i.e. the speeches that he prepared in two languages!).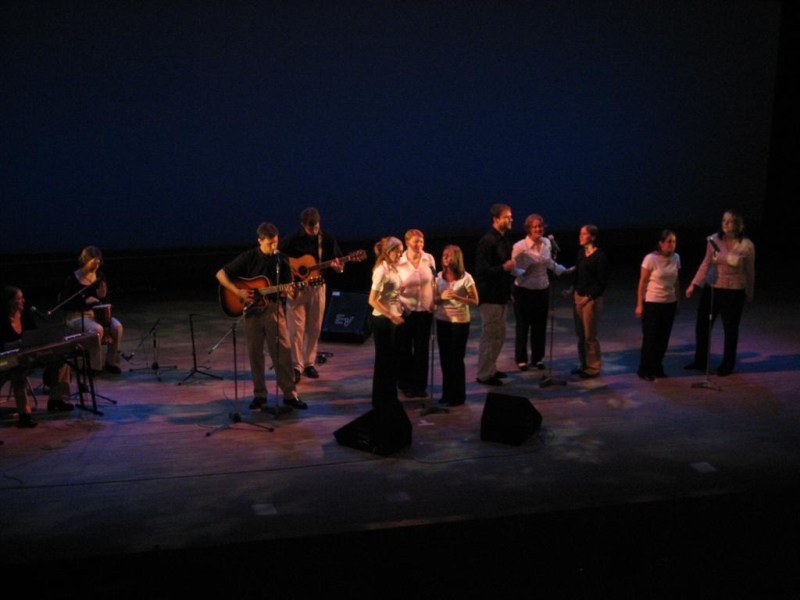 Us doing Your Love is Extravagant . Mike and Benno played guitar, Lis played piano, Cristy played the drum, and Nate had an egg shaker. The rest of the girls sang and performed in sign language with the words. We had no idea the lighting would be as cool as it was. That was a sweet jam, I tell you…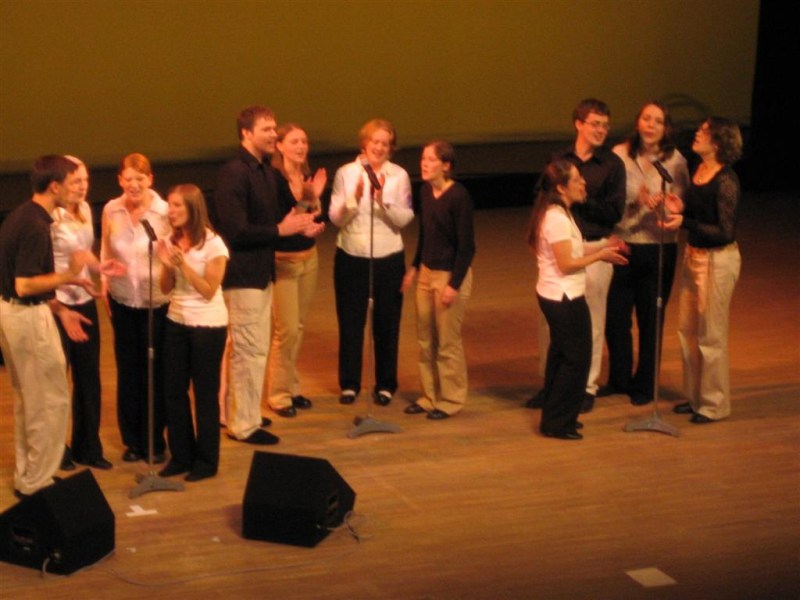 Us doing the Swing Low medley. It was all a capella , so our harmonies were on full display. Plus, we got to clap and stomp in time to the music. At one point the whole crowd was clapping along with us! That was a lot of fun.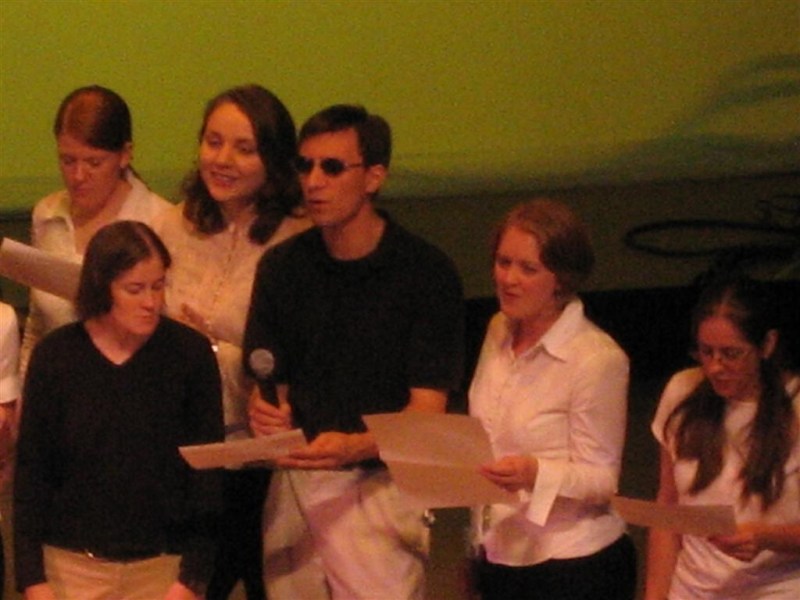 And last but not least, here's a BONUS PICTURE! The last song of the night was a Japanese oldie that they asked us to learn and sing along with. As if practing our actual routine weren't enough, we actually had to learn a totally new song all in Japanese! Thankfully, they let us bring our music on stage, so we made it though somehow. Actually, it was really fun at the time; I'm glad we did it! Here's a bunch of us singing the song Ano Subarashii Ai o Mou Ichidou ("[Give Me] That Wonderful Love One More Time"). Check out Mike with the cool sunglasses–that was the moment onstage as a hip foreigner that he's dreamed about for years…
We are praying that our singing was not merely entertaining or fun, but that it conveyed a message about God that many who attended the concert would begin to be interested in (and ultimately transformed by). And Lord willing we'll continue to be able to use "gospel" music as an outreach to the people of Funehiki.
-Mike