And now for one of the coolest and most surprising opportunities to happen to us since we've been here in Japan…
As you remember, I work at a local Junior High School ( Takine J.H.S. ) four days of the week, and on Friday I teach at some local Elementary schools. Well, about a month and a half ago I paid my first visit to a school called Sugaya Elementary School, and during lunch something really surprising happened. The principal ( Kouchou-sensei )asked me (in Japanese) if I liked classic rock music. I said yes, I love classic rock–Queen, the Beatles, etc. Then, he said, "Come with me– I want to show you something." He took me to his house and showed me his living room, which he had transformed into a home rehearsal studio. He asked me if I wanted to join them for rehearsal sometime as a singer, and of course I jumped at the chance and said yes.
Thus began my membership with the Sugaya P.T.A. Band. Including me, we're a 6-member band: one drummer, three guitarists, and two singers (of which I'm one). And except for me, they're all fathers, all middle-aged, and all members of the local P.T.A. They all love classic American rock–in fact, most of the songs they play have English lyrics, so as the resident native English speaker I'm something of an asset.
So now I'm a member of a Japanese rock band! How crazy is that? And even crazier, I'm actually performing with them next Saturday at Sugaya Elementary's school festival. This is like a dream come true for me. I've always wanted to be in a band, and I've always wanted to have some Japanese guy-friends to hang out with and share common interests with, so this is a perfect synthesis of those two desires. It's so clearly a God thing! Who would have guessed?
Here's a few pictures of our most recent rehearsal: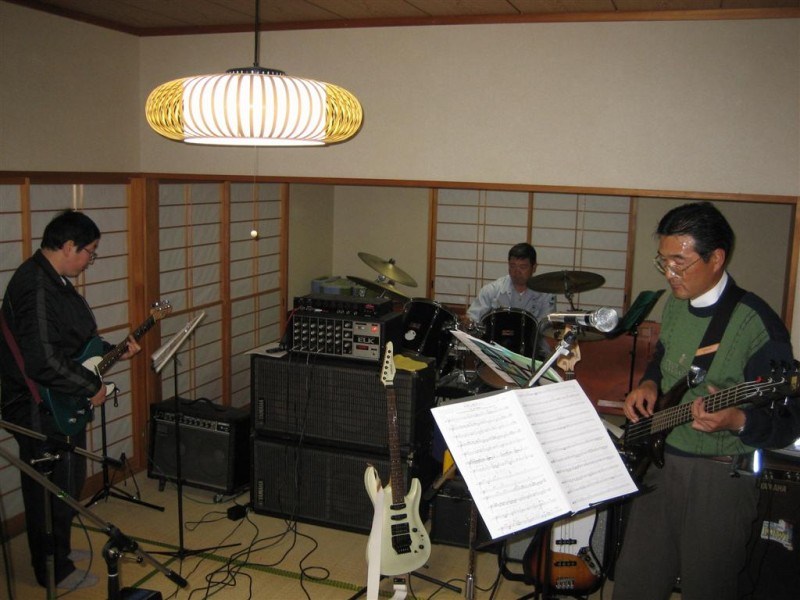 Practicing at Kouchou-sensei's house. He's the one in the green sweater on the right. He's an incredible guitar player in his own right; he blows me away with how much he's studied these songs.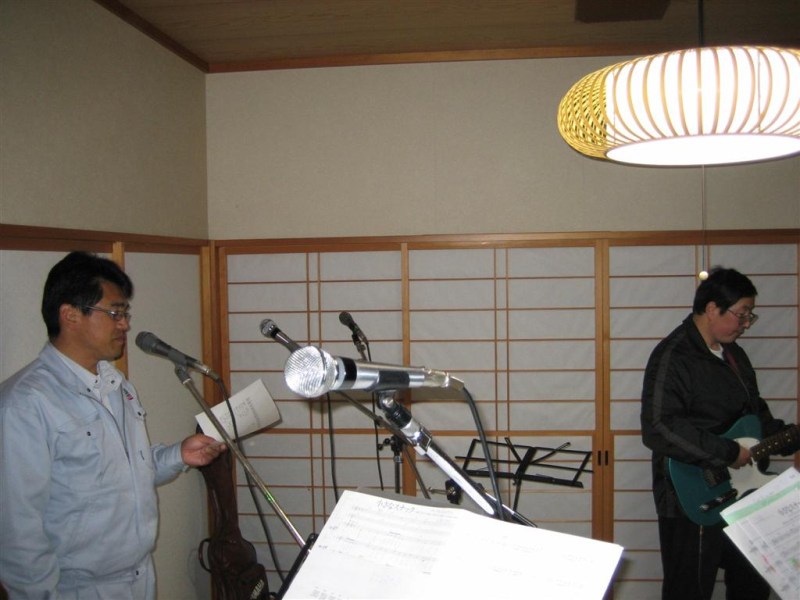 The guy on the left here is the other singer. It's definitely a challenge to sing along with someone whose native language is different from your own! But he's actually a good singer, especially when it comes to Japanese songs, and very fun to sing with.
Last but not least, here's me playing the bass for the song Hotel California . It's a real challenge to play and sing at the same time, especially a song as syncopated as this, but I'm doin' my best. And yes, that bass guitar is exactly like the one I left at home– Kouchou-sensei brought it out especially for me!
I still can't believe I'm a part of this. Thanks to God for this incredible opportunity!
-Mike