After we posted our first blog entry about Mike and the Sugaya P.T.A. Band, we got more than a few incredulous replys. And in fact, there was even one who postulated that the whole thing was an elaborate fabrication on our part! So to set the record straight, we want to state once and for all that everything we post on our blog is absolutely true, and yes, that includes the entry about eating sea cucumber sushi on the moon with now ex-Prime Minister Koizumi (he got voted out of office last month).
So yes, crazy as it seems, Mike is actually in a Japanese rock band whose members consist entirely of P.T.A. members (and the fathers of his students). And even crazier, he got to perform with them at last Saturday's Sugaya Elementary School Festival! That was a lot of fun, and it was made even more fun when the Principal suddenly invited Jen to sing along with the band as well! In fact, he laid out about 20 different kinds of musical instruments throughout the music room (where we were performing), and encouraged the students to play along with us. So the whole thing had a very group-oriented, karaoke kind of feel to it. We had a blast, and from the looks of it, so did everyone else!
Here's the line-up of songs we did:
Ashita ga Aru sa
Stand By Me
Only You
The Dock Of The Bay
What's Going On
Hotel California
Chiisana Snack
Funky Monkey Baby
Itoshi no Eri
Namida no Kiss
And I Love Her
Don't Let Me Down
Ob-La-Di, Ob-La-Da
An eccelctic line-up to say the least, but all great songs. Mike did lead vocals on all the English songs, and was even able to sing the first song entirely in Japanese! Jen provided a great back chorus for Stand By Me, Only You, The Dock of The Bay, and Ob-La-Di, Ob-La-Da. Here are a few pics that you might enjoy: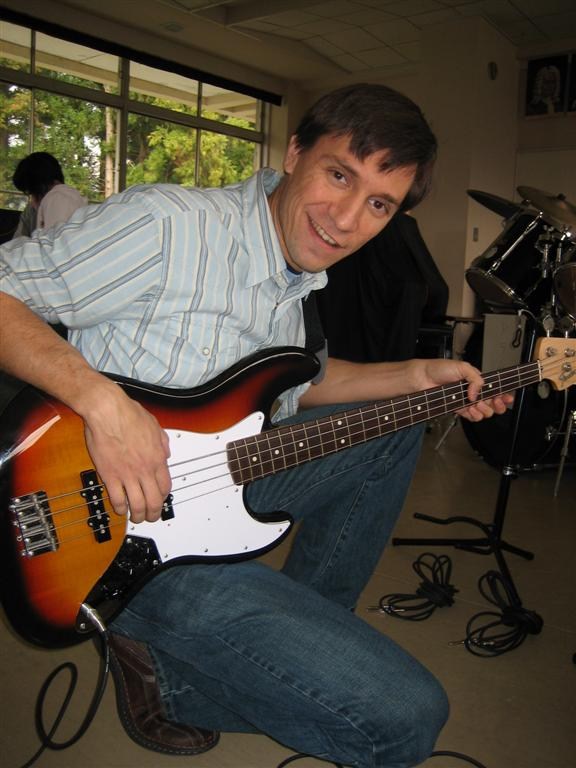 Mike tuning up his trusty old Fender Jazz bass guitar (that the Principal owns). The songs he played bass for were Hotel California, Funky Monkey Baby (gotta love that name), and And I Love Her.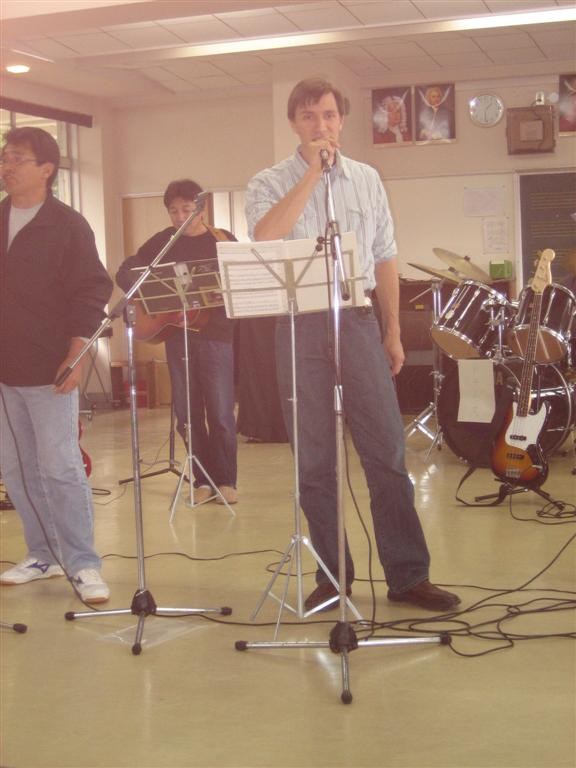 Somehow Jen's finger got in the way of the flash on this shot, so it looks like it was taken in the 70's–which is perfect for a band whose staple is 60's and 70's rock music! Maybe this will be our album cover someday…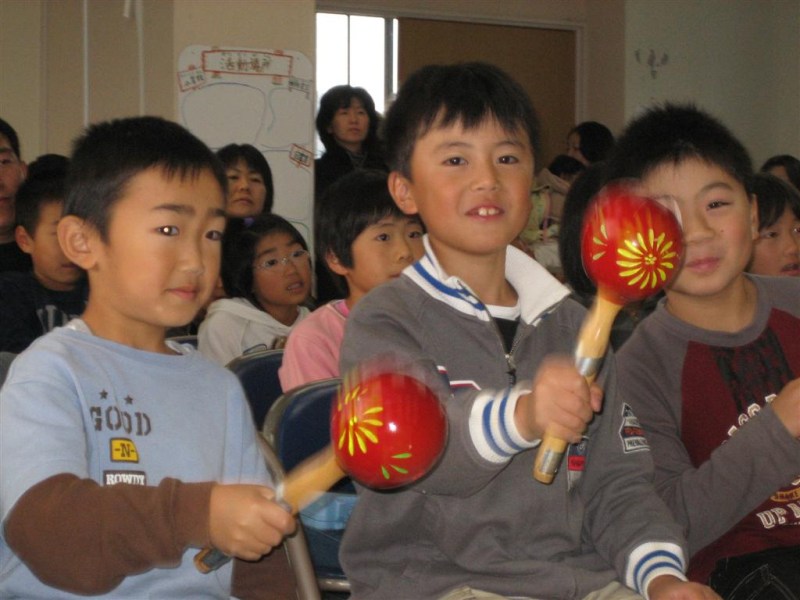 Our captive audience gets into the groove with maracas on Ob-La-Di, Ob-La-Da. The whole school got to see us perform in shifts. Since they wouldn't all fit in the music room, the principal decided to split the schoolkids (and their parents) into three different audiences. Each one got to hear six songs, so it was almost like having three mini-concerts. Loads of fun for all, apparently.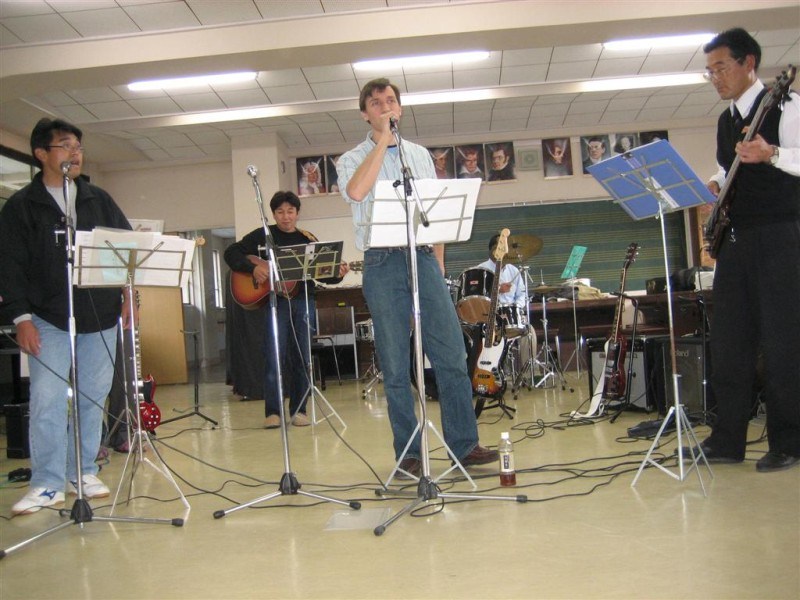 And yes, the whole band rockin' out together (minus Jen, who was taking the picture). We've also got DVD footage of some of the performances as well. What a great memory! We'll be looking back on this one for a long time, I think. Hopefully we'll be able to perform again next year, too!
-Mike