Today I (Mike) taught at Hirose Elementary School, and before I went into work, I prayed–a lot. Today was a wonderful and perhaps unique opportunity to share a little bit about Jesus– in school . This week's syllabus requested that I " talk about Christmas ." They didn't say what exactly I was supposed to talk about, just "talk about Christmas." So I took it as a wide open door to share a little bit with the kids (and the teachers) about what Christmas is all about.
You see, much like American kids, Japanese kids love Christmas because they love getting presents. So I started out my lesson by asking them (in Japanese) why we give presents at Christmas. Nobody knew–not even the teachers. That made for a fantastic segue into the centerpiece of my teaching plan– Jen's Christmas book! Yup, it's finally here, and it's better than either one of us thought it would turn out. We'll post a seperate blog on it soon. At any rate, you can imagine the surprise when I told my kids "My wife made this book." And it kept their attention the whole time. Here are a few pictures of me teaching from the book: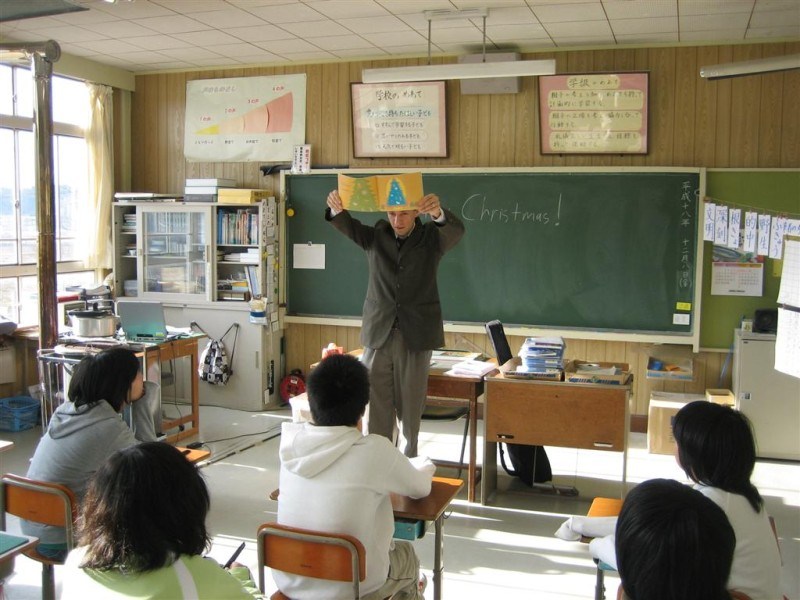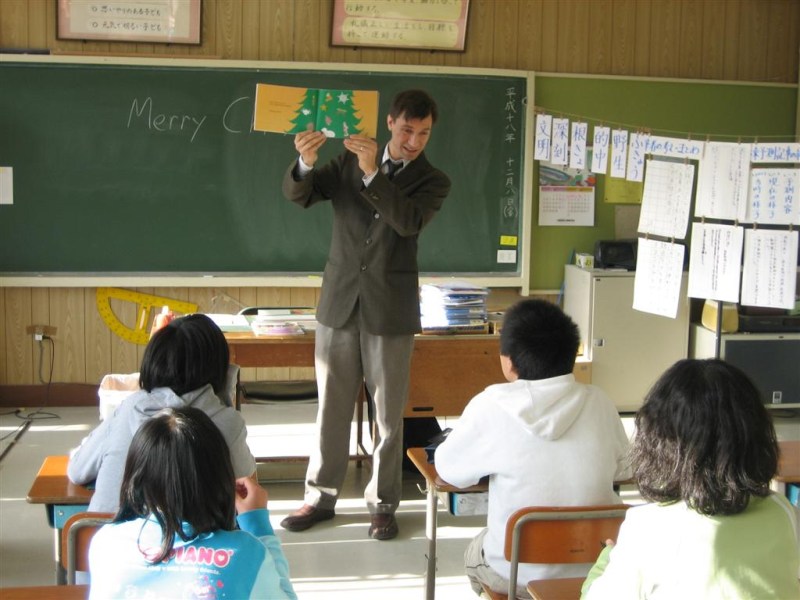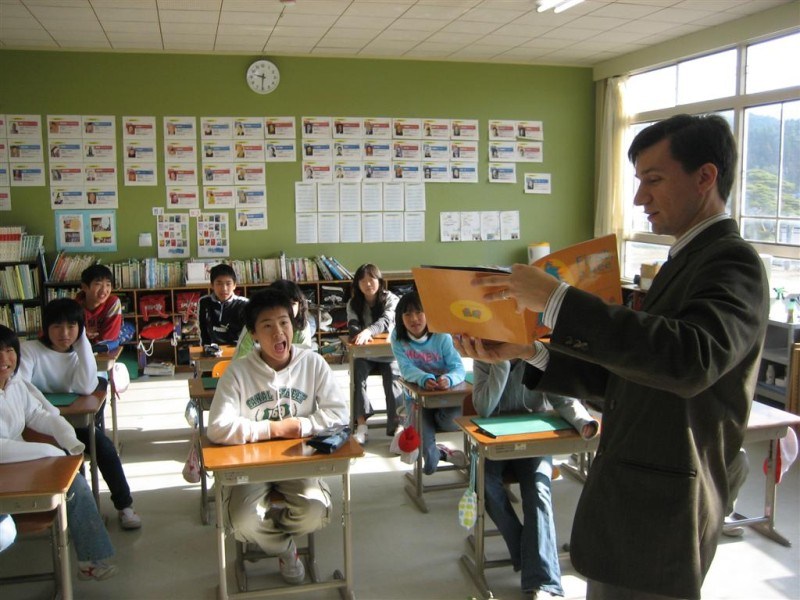 (That one kid in the front looks really interested in what I'm saying…
)
I basically got to share with them the basic Christmas story –about the shepards and the angel, the wise men and the new star, about the baby in the manger who was a newborn king, and that we give presents to remember God's present to us on the first Christmas. I even was able to get all four of my Japanese teachers to read the proclamation of the angel regarding the newborn Savior, Jesus. And of course, almost the whole time I was talking in Japanese, so while it was by no means eloquent, it was at least comprehensible. This was the first time the kids had ever heard the Christmas story, and they loved it. They especially liked the story of the wise men in the east who see the new star and follow it to the stable where the newborn king was laid–that really got their attention. And everyone agreed that baby Jesus was "very cute."
Then I broke out my guitar and taught the kids We Wish You A Merry Christmas , and to top it all off I got to sing and play Christmas carols on the guitar while the kids made Christmas cards. Some of the teachers were singing along to songs like Silent Night , which was definitely the biggest hit. I also sang songs like Joy To The World, What Child Is This, It Came Upon A Midnight Clear, and Away In A Manger . I even let some of the kids strum while I played the chords–they got a kick out of that. It was not only good English exposure for them, it was also exposure to some real Christmas music, not just the humanistic fluff that's so popular here. Some pictures: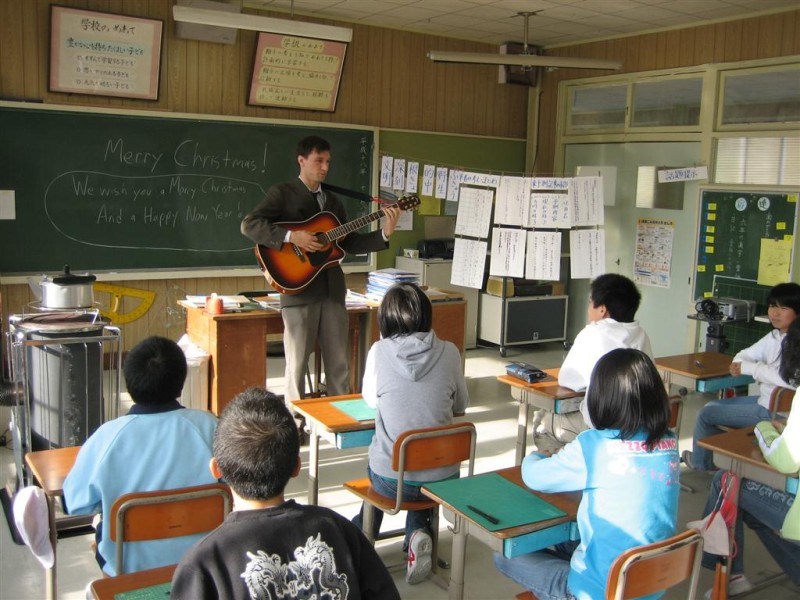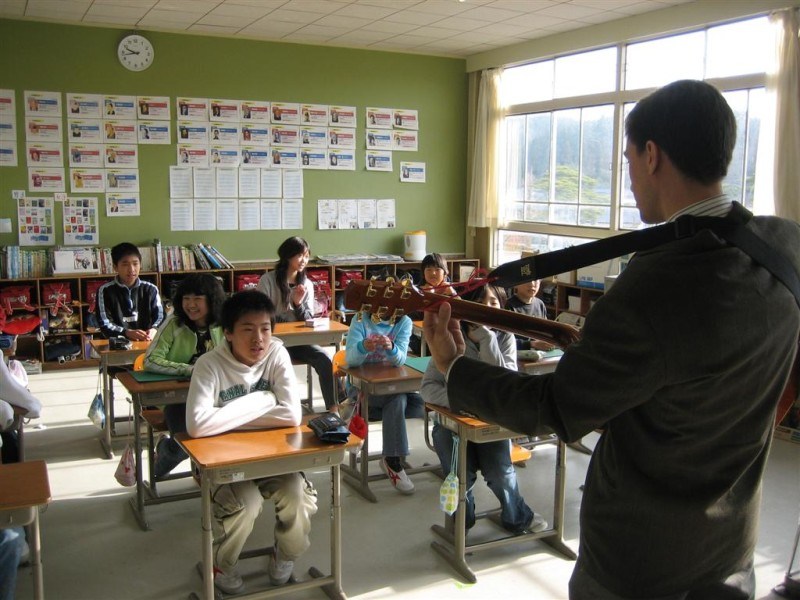 I prayed a fair amount today. I prayed that God would use my truly feeble efforts to plant seeds of faith in the little hearts of my students. It's exciting to think that He might use the story of His son's birth (told through a barely conversant foreigner) to kindle an interest and a love for Himself in some of their hearts one day. Ultimately, that's all a missionary can hope to do–trust that God will work in ways that he/she will probably never see. We can plant and we can water, but only God can make those seeds of faith grow. May he bring many to Himself from the nation of Japan!
-Mike
P.S. During lunch break, I took these pictures of some kids who decided to try my jacket on for size. In my humble opinion, I think it fits them better than it fits me!